Running and exercising is one of the difficult things to do, but what is, even more, harder losing weight- which is why the best skinfold calipers are necessary if you are really serious about shedding body fat and staying motivated to do so.
When losing weight you cannot just concentrate on the number on the scale rather you have to know your true muscle to fat ratio- remember, muscle weighs more than fat.
If you are a personal trainer, you have to track the progress of your client's journey to losing weight and maintaining a healthy lifestyle.
The most widely used tool today to measure body fat and body fat percentage is the skinfold caliper. This is because they are easy to use, affordable, and provide extremely decent results.
Finding a skinfold caliper can be hard given that the market is already flooded with a bunch of different calipers.
Therefore, to make your work easier, we have reviewed and scrutinized five of the top-performing skinfold caliper.
Let's dive right in…
Top Picks : 5 Best Skinfold Calipers
Last update on 2022-11-18 / Affiliate links / Images from Amazon Product Advertising API
Top 5 Best Skinfold Calipers Reviews
One Of The Most accurate Body Fat Calipers On This List
If you want to feel like your workouts, going to the gym, and diet regimen is getting you closer to losing weight, then you need to track your results.
And there is no better way to do this than to use Slim Guide Skinfold Caliper. This skinfold caliper comes along with a user's manual that has 5 charts for testing 6 out of the seven testing sites in the body.
In addition to that, it is lightweight and the best body fat caliper with the capability to measure body fat up to 60mm in thickness.
If you are a newbie and for some reason, you have limited knowledge of measurements, then this caliper comes with charts you can refer to when making your measurements.
The accuracy level is extremely precise & accurate body scale.
Besides, it is quite simple to use and an ideal option to track your weight loss and fitness goals.
Even though it can be pretty uncomfortable or unbearable at first, you can easily fix that by taking 300 and 600 grit wet. dry sandpaper and wet sand the sharp edges down.
This will therefore make it comfortable and even if you have never used it before, you can be sure to easily pick up and get incredibly consistent results from it.
HIGHLIGHTED FEATURES
Accuracy- It is quite discouraging when you are determined to lose weight and tracking your progress becomes hard because you constantly keep getting inconsistent results of your weight. To be sure that you are getting somewhere, you ought to get yourself this caliper. It surely can provide precise and accurate measurements.
Ease of use – For beginners, it's frustrating to have a calliper that does not provide a user manual and is hard to read measurements from. However, this tool comes in handy with a good user manual that you can refer to when you get stuck somewhere while using it.
Value – Being a fairly priced product, it is much easier for anyone to manage the cost of it.
PROS
Easy to use.
Highly affordable
Provide accurate results.
Comes with charts for reference.
Good for tracking weight loss
CONS
It can be pretty unbearable at first.
Crafted by Accu-Fitness, one of the world's most accurate body scales and widely praised makers of fitness accessories, they are well renowned for delivering high-quality items.
It is designed to be protractor-like in terms of construction, and it has a caliper structure that differs from the conventional gun-like design.
Even if it is composed of lighter materials and has an irregular shape, it is completely capable of taking accurate measurements.
This Accu – measure body fat calipers are easiest if you are keen on privacy and want to use them alone with no personal trainer's help.
Since most of the body fat is directly located under the skin, a very ideal and practical way to measure the body fat percentage is skinfold measurement.
This fat tester is a precision instrument that studies have shown that it is closer to a gold standard in terms of accuracy.
Created to be easier to utilize, anyone who is getting started with weight loss tracking will have no difficulty using it.
Even though the plastic is a little bit flimsy, it is strong enough to take your measurements.
It is simple to read the measurements since the numbers are facing you and next to your hand, which is where you would be looking anyway.
HIGHLIGHTED FEATURES
Affordable- Being two long pieces of plastic connected with a hinge at one end, It makes sense that this product is an extremely affordable, useful and accurate lange body fat calipers.
Ease of use- Contrasted with other brands, this caliper outperforms the rest when it comes to ease of usage. It is created with good and visible measurement reading that anyone can easily read easily without any hassle.
PROS
Provide accurate measurement.
It eliminates possibility of human error
It is easier to use.
Fairly priced.
It is portable.
CONS
The plastic used is a little bit flimsy.
The Lange body fat calipers are among the best body fat calipers that are highly recommended by fitness enthusiasts and personal trainers alike. Their praises are mostly because of their high quality and accuracy.
However, this skinfold caliper does not translate into its popularity among the general public.
Besides being designed to be simple and accurate skinfold measurement, this caliper is made of durable aluminum and an extremely hard protective case.
This makes it last for decades without degradation.
If you are a fitness professional, you know how much accuracy means when taking the body fat and weight measurements of your clients.
You need to be able to tell the accurate results to help them track their performance as far as weight loss is concerned.
To avoid frustrations brought about by inconsistent results, get this caliper as it is an excellent product and one of the most accurate models in the market today.
Unlike other brands, Lange calipers are designed with amazing quality that speaks for itself.
In addition to that, it is enhanced with extra features such as a calibration block to improve accuracy, a protective case and a long lasting aluminum to improve its accuracy.
HIGHLIGHTED FEATURES
Build efficiency is excellent- The Lange brand of body fat measurement instruments is widely recommended by health practitioners and even medical professionals worldwide due to its reliability and high-quality design.
Excellent precision– The precision of the Lange brand of skinfold body fat calipers is without a doubt its best selling point. It comes with a 5-step calibration block to ensure accurate body fat measurements.
Extremely Durable – Created with a strong durable aluminum and protective hard carry case, you can easily tell that this caliper reliable and long lasting
PROS
Great Quality.
Amazing precision.
An additional calibration block.
Extremely Durable.
Come along with a protective hard case.
CONS
The baseline skinfold is a perfect tool to measure the thickness of the "skin folds".
Being an extremely easy to use caliper, you can select a part of the skin you want to measure, and using skinfold tables you can easily translate the body fat percentage.
You can take measurements from your triceps, biceps, subscapular, and suprailiac.
It is one of the most extensive instruments range for measuring the progress in Physical therapy. It prides on measuring strength and range of motion.
Since it is lightweight and compact, you can take it with you everywhere you go.
When measuring, the measuring arm would have "floating tips" to ensure reliable and consistent results even under constant strain.
Furthermore, to make it simple for beginners to get started, the scale contains a simple 60 mm scale that is easy to understand.
HIGHLIGHTED FEATURES
Consistent measurement- If you are looking for a caliper that is created to deliver the correct results that are always accurate and precise even under pressure, then this is the one to go for.
Cost-effective– As opposed to other brands, the price of this skinfold caliper is reasonable. It's less costly, but it consistently delivers with fair precision.
Easy to use– It doesn't have heaps of add-ons or gimmicks. It is made to be light-weight and highly-portable so that you can be able to easily carry it anywhere you would like without any problem.
PROS
Delivers consistent and accurate results.
Fairly priced.
It has amazing construction
Lightweight and portable.
It is easy to use.
It comes with padded case and instructions
CONS
Sometimes it stops working after using it for 5 times.
Baseline economics is the way to go if you're looking for an economical caliper that can weigh subcutaneous tissue for body fat measurement.
Body structure measurement is important for both health-related and performance-enhancing purposes in athletics.
It is an excellent low-cost body fat calipers tool for achieving precise skinfold analysis.
This method is ideal for those who value their privacy and wish to screen themselves at home.
Aside from that, it may be used to track vast populations. This skinfold caliper's spring-loaded arm ensures a reproducible "pinch" and a 50 mm measurement that is easier to read.
Created to be portable, this baseline economy plastic skinfold is extremely lightweight contrasted to other brands in the market.
Although many things such as the nature of the equipment, level of expertise of the tester, and the equation used in prediction may affect the accuracy of results, it is beyond reasonable doubt that this caliper offers incredibly accurate and consistent measurements.
This caliper is designed for beginners who want a straightforward caliper that they can quickly learn how to use.
It has an easy scale that everyone can read without difficulty.
Unlike other brands, it was designed with a scale that allows up to 65mm, implying that you can do a lot with it. It also comes with a carry case to help you carry it anywhere you want to go.
HIGHLIGHTED FEATURES
Easy to use – Unlike others that have scales that are difficult to read from, this has a simpler scale that anyone can read within no time.
Portable – It is lightweight and comes with a carrying case to help you carry around.
Cheap – If you are looking to cut down on your budget by looking for a pocket-friendly caliper, then this is a great choice for you.
PROS
It is lightweight and portable,
Less costly.
Easy to read.
Accurate measurement.
Can be used in health-related and performance-enhancing purposes
CONS
Best Skinfold Caliper Buying Guide
Last update on 2022-11-18 / Affiliate links / Images from Amazon Product Advertising API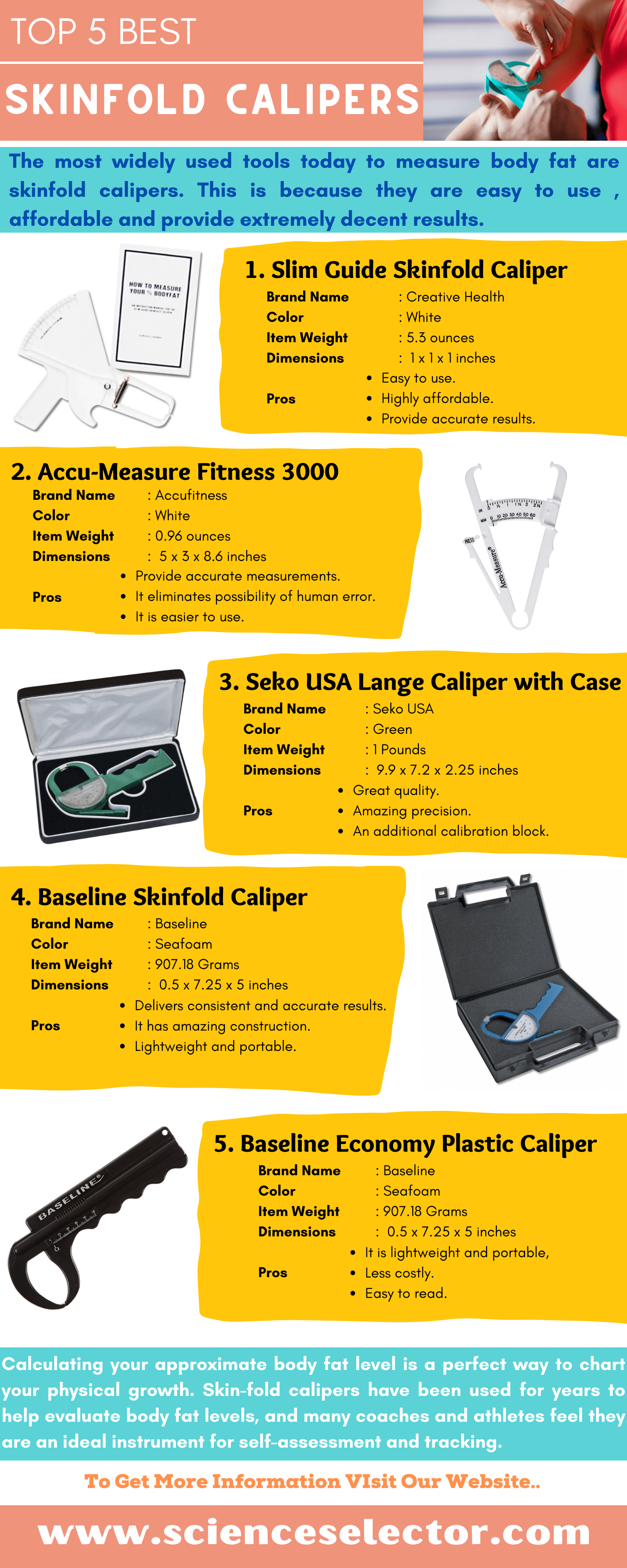 Accuracy
It goes without saying that making an accurate skinfold is important. It's useful to know how much weight you've lost or muscle you've gained.
Certainly, it is about contrasting the workout and the outcome. To put it another way, improvement.
Furthermore, strong repeatability is required for an effective and best body fat caliper.
That is, if you run the skinfold calculation procedure many times, the reading will still be the same.
You might even try this on a certain metal once a week for a month at the same temperature. If both readings show the same number, the reading is right.
Measuring Range
For average people, they might think that range does not matter but for the ones with excessive body fat and who are yet to begin the process of losing it, they have to look for at least the best body fat caliper that can have a longer range.
Pressure
There are several variables that influence skinfold measurement. Each of them is the pressure exerted by the jaws.
The reading would display a lower number as the pressure increases. The higher the amount, the lower the pressure.
A defective caliper will show incorrect results and confuse you. You may believe that you have made significant improvements, but in fact, you have made none.
Durability
Investing in a costly one can quickly deplete your budget, but it will pay off. You can buy the one that has been suggested by experts or others who have used it previously.
If durability is a problem, we think the plastic skinfold caliper should be avoided.
Price
In as much as it is important to look for quality over price, your budget should equally dictate what you should buy.
Although quality seems to be in most highly priced products, there are also the best body fat caliper products that are affordable but are still useful and amazing.
Last update on 2022-11-18 / Affiliate links / Images from Amazon Product Advertising API
How to use skinfold caliper
Taking Measurement
If you're right-handed, use your left hand to take out the flap of skin with the underlying coating of body fat and catch it with the left hand's fingertips.
Then, holding the calipers in your right hand, place the jaws as seen in the diagrams below. The calipers' jaws can be about 1/4″ (7.5mm) apart from the digits of your left hand, which is also holding the fold of skin.
Release the caliper trigger so that the full weight of the jaws is on the Skinfold. When taking the readings, do not let go of the left hand's fingertips.
It is important to keep the fingertips tightly grasping the fold of skin so that the calipers just measure the thickness of the fold of skin.
When you put the calipers on the Skinfold, you will find that they "creep" a bit. After a few seconds, the "creep" will slow down, and this is when the test can be taken.
Where To Take The Measurements
Back of the arm
The upper arm's end (Triceps). This is midway between the shoulder and elbow joints. The fold is made vertically, directly on the center of the back of the arm.
Front of the arm
The measurement of biceps is taken in the same manner as the Triceps except that it is taken on the front of the upper arm in the middle.
Shoulder blade
It is located in the back, just below the shoulder blade (subscapular). This is found just under the shoulder blade. It should be noted that the skinfold is measured at a 45-degree angle.
Waist
Waistline (Suprailiac). It is situated right above the iliac crest, the hip bone's protrusion, and a little towards the front from the side of the waist. Note that the fold should be taken horizontally.
How to take skinfold measurements
With the help of both your index and thumb finger, fold the skin of your client. While doing so, be keen to ensure that the skin you grab has subcutaneous body fat as well. However, do not go for parts that have muscles.
Right below your fingertips, position the contact surface of the caliber, Again , you must ensure that it is tilted at an angle of 90 degrees. Now reduce the pressure a bit in between your fingertips but still retaining the position of the caliber.
Once you have already released the callipers, try to take the reading on the needle to the nearest 0.1 mm. Wait for at least 4 seconds if you are using a personal training kind of calliper.
While taking skinfold measurements , try not to  take subsequent  readings at the skinfold site.
While holding skin with both your index and thumb finger of your left hand, use your right hand to hold the callipers in order to perfectly measure the skinfold.
Calculate the skinfold  readings approximately 4 seconds after the calliper pressure is released.
For the purposes of accuracy, always take at least two measurements. That way you can calculate the mean in case the readings do not match.
Factors such as age, height and hydration influence the skinfold measurement. Besides, do not take measurements when the skin is still moist.
FREQUENTLY ASKED QUESTIONS
What is the most accurate body fat caliper?
The Harpenden is billed as the most precise skin-fold caliper available, measuring up to 55 mm and reading to the nearest 0.1 mm.
Furthermore, it is of high quality and can be used as a typical analysis instrument.
Are skinfold calipers accurate?
Yes, even though many variables can influence the precision of body composition measurements using calipers, such as the device, the tester's level of experience, and the equation used for prediction, skinfold caliper can still provide a reasonably precise, fast, and economical way to calculate body composition changes over time.
How accurate are Accu-measure calipers?
Accu-measure personal body fat tools have gold standard accuracy to within 1.1 percent of underwater weighing results and are recommended in body-for-life and endorsed by the world natural bodybuilding federation.
How much skin do you need to pinch a caliper?
How much you can pinch depends on the range of the caliber you are using. Of course, you will have to pinch a skin size that is greater than zero but less than the maximum length that the caliper will measure.

Can you use normal calipers to measure body fat?
Yes, a standard caliper—which you should learn to use yourself—measures skin folds and enters the results into a formula. The calculation would then produce an approximation of your body fat percentage. These calculations will also measure body fat and lean mass weights.
Last update on 2022-11-18 / Affiliate links / Images from Amazon Product Advertising API
Top Choice Skinfold Calipers For Body Fat Measuring
Calculating your approximate body fat level is a perfect way to chart your physical growth.
Skin-fold calipers have been used for years to help evaluate body fat levels, and many coaches and athletes feel they are an ideal instrument for self-assessment and tracking.

Losing extra body fat (for both nutritional and aesthetic reasons) is a fantastic idea in many respects. If weight loss targets are to be met, it is important to track continuing body fat loss, and using calipers could be the safest way to do so.
So, if you are looking to get started with a weight loss journey, the above-reviewed products can be a better starting point. We believe we have shed light on what you need to know and it is now up to you to make a choice.