Many people are interested in painting galaxies. They want to find out how to paint a galaxy they see in a picture or on the internet. Galaxy painting is a great way to relax and have fun with your friends. The process of creating the galaxy can be relaxing or challenging depending on what type of person you are. It is not as simple as it seems. That is why we are going to show you how to paint a galaxy step by step.
This post is about how to paint a galaxy. It's not too hard if you use the right tools, like acrylics and a palette knife. You can choose from different types of colors, shapes, and sizes for your own unique creation. I will show you step-by-step instructions to paint your own galactic masterpiece.
Painting a Galaxy Step by Step
Method- 1 : Mini Canvas Galaxy Painting
We are going to paint a galaxy by using a number 7 detail brush, a number 2 detail brush, a number 10 shading brush or a flat brush, and a half-inch round bristle brush. We are using 4 colors for this piece ivory black, magenta, primary blue, and primary white all by basics as always.
Step- 1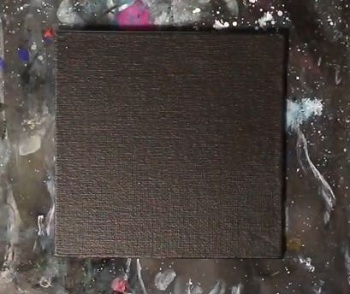 For galaxy paintings, we are going to start off with a black background so the background of our canvas has already been painted black and I've let it dry for at least an hour.
Step- 2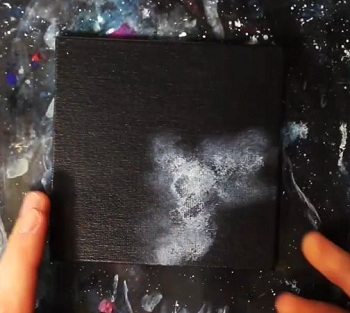 We're going to grab my first color which is white and dab it on the canvas by using the half inch round bristle brush as shown in the picture.
Step- 3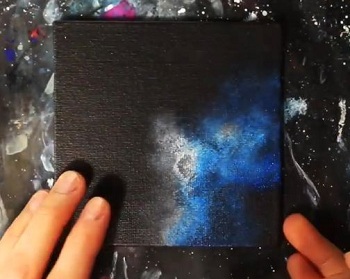 Now using the same half inch round bristle brush, and we are going to add the blue paint using the same method.
Step- 4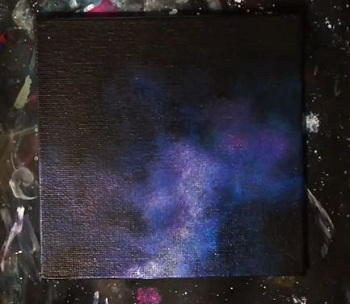 Then using the same brush and same method, we are going to paint pink color as well.
Step- 5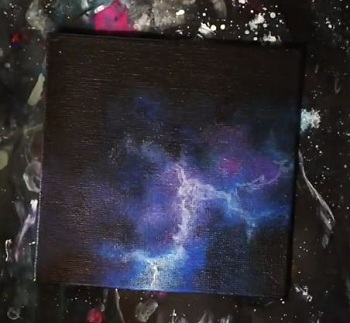 Now using the number seven detail brush we have to bring in some watered-down white.
Step- 6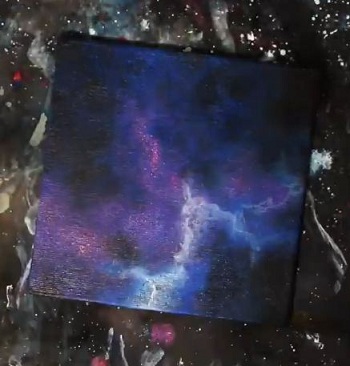 After that, we will use the number 10 brush and half inch round bristle brush to bring in color around the edges of the painting.
Step- 7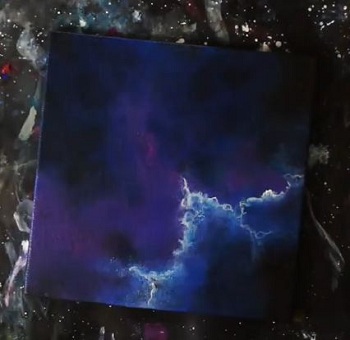 Now we will just bring in those white details to look more attractive as needed.
Step- 8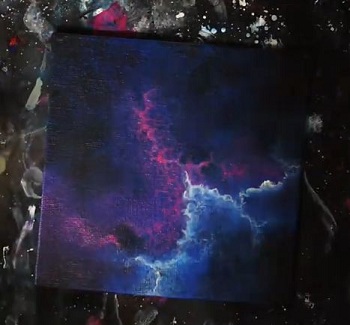 I will also start to bring in some pink details as well to create a little Nebula effect going there.
Step- 9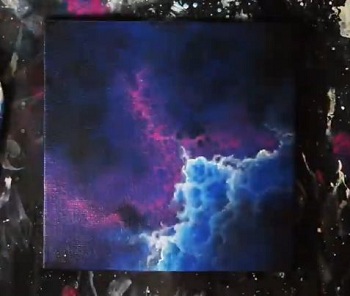 Last but not least, we will splash on the stars after finishing all the nebulae. We want it to look beautiful and vibrant, so I use a number 7 brush and watered-down white paint. It is pretty easy as long as you make sure that the paint has a good consistency so it's not too translucent.
Step- 10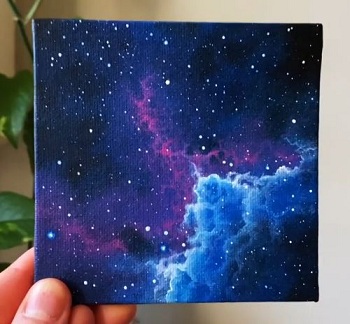 Once you splash on those. For the stars, all you need to do is spray some white acrylic paint with a brush.
Method- 2 : Galaxy Acrylic Painting
Step- 1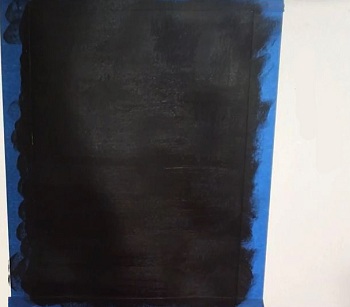 Start by painting the whole thing black, and put it away. Make sure you only paint one side of the paper at a time and not all over it. Wait about 5-10 minutes for the paper to dry
Step- 2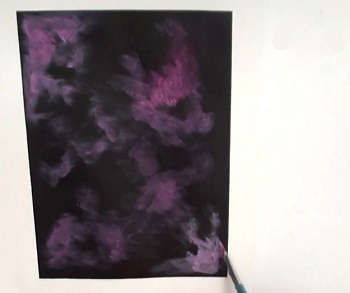 Create clouds by dabbing pink on your paper, making sure there is space between the clouds
Step- 3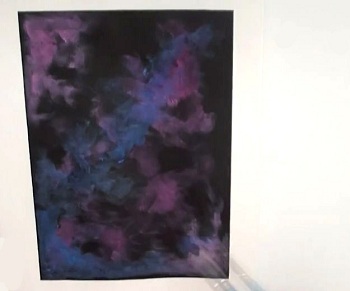 You can blend a little blue in the places you didn't paint pink, as long as it gives it the look of a space.
Step- 4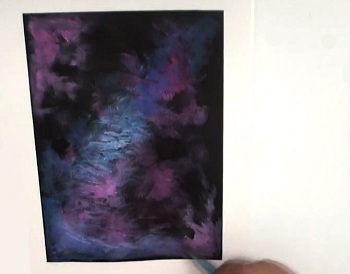 Add a thin layer of white paint to the middle of the painting. Then add another layer of pink paint on top of it. You will have cloud-like colors in your painting.
Step- 5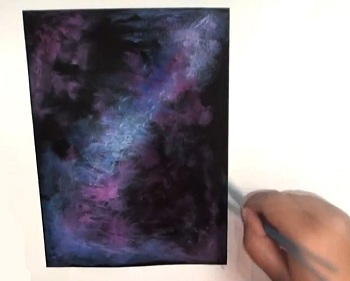 Until you're satisfied with the painting, keep adding white to your layers
Step- 6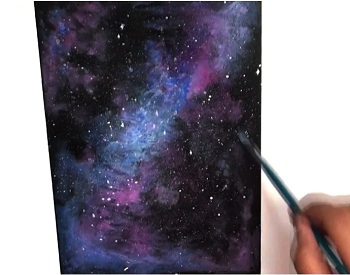 You can paint your paper with white paint by splashing it on the painting by using a brush to make stars.
Step- 7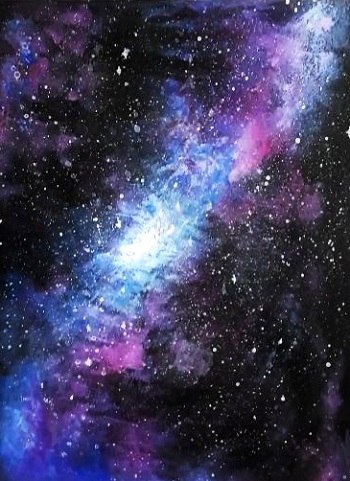 I hope it turns out well.
Method- 3 : Galaxy Painting for Beginners
Step- 1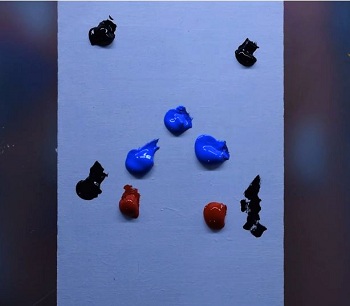 We are going to paint onto a canvas. I used black, red, blue, and white paints. You can use green or any other color to create your galaxy. Start by putting the paint you want onto the board or on your canvas. Put black around so that the galaxy can be seen better in the center of your painting.
Step- 2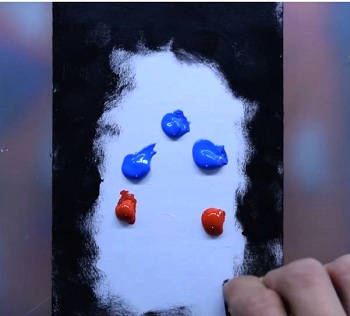 We are going to start with a sponge. We will touch the paint on the canvas and that is all. You do not have to worry about it being perfect, just keep touching it until you are happy with the results.
Step- 3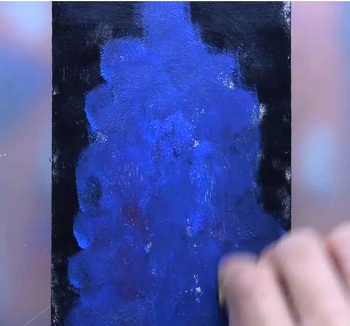 We are going to mix the red and blue paint to give us a purple color. You can see that it is very light.
Step- 4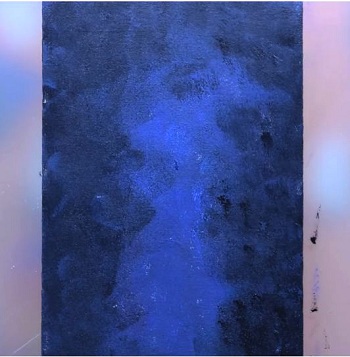 Don't worry if it looks like stains, it's a galaxy. It can be fixed by adding some black paint and just lightly touching the sponge on the area. You can see that we are doing everything as they should and not letting the paint get too thick in one place. The part where it's black around it does look stained, but that is okay because that is what gives this painting a sky style to it.
Step- 5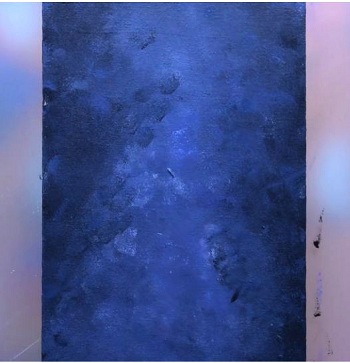 I added more blue and red paint because I felt it would be dark, but I also added white paint to make it look like lights. You can add green or red to make your own painting.
You will see that if you let yourself go and do it as you like, it will look very good as we can add a little paint around. We can also use black paint in the center so the contrast of the light of the galaxy is much more visible.
Step- 6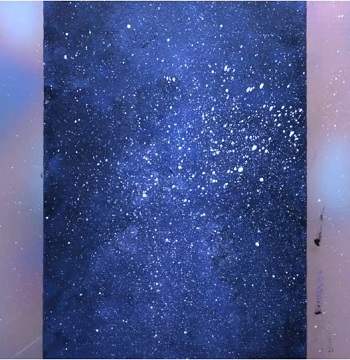 To make stars you need an old toothbrush and paint. Soak the brush in the paint. Carve it with your finger to shoot small droplets of paint. The stars I made in my painting are close and big because I only used a toothbrush. If you want to, you can use new brushes or even a palette knife to make bigger stars that will be better than mine
Step- 7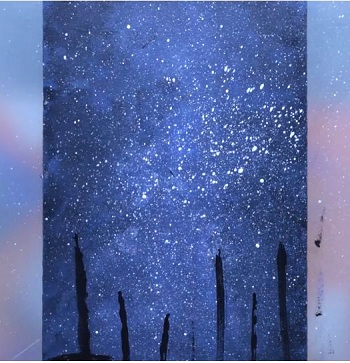 Once they had finished I wanted to add some trees to the painting so that they looked like in a forest. They just put a few lines as it is in the picture.
Step- 8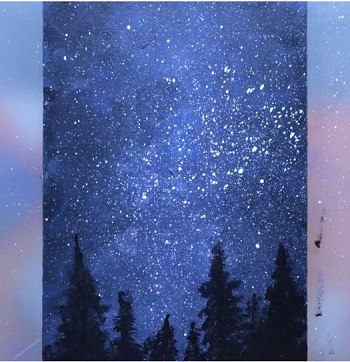 I used a flat brush to shape the branches. I first painted on the sticks and then added some details. If you do not have a flat brush, you can use a round one and while holding it with your hand, crush the bristles together so that it becomes thin enough to paint.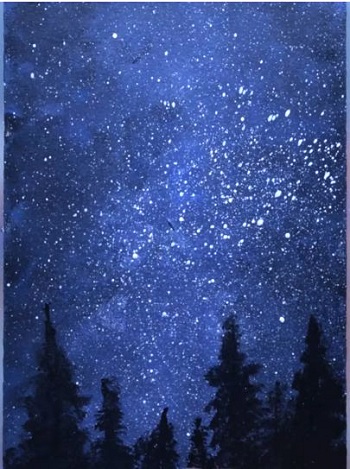 Finally we finished painting the galaxy.
Method- 4 : Easy Acrylic Galaxy Painting
Step- 1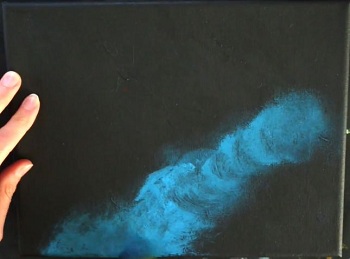 As shown in the picture, apply a small amount of turquoise to the center of the canvas.
Step- 2
Now I will come in with my neon green and white color with a smaller flat head brush and paint it. I do not like this, because it doesn't blend well. It leaves streaks no matter how much you blend it. I still like the color music, because I think it looks so cool. I need to get a different version of this color, one that blends better.
Step- 3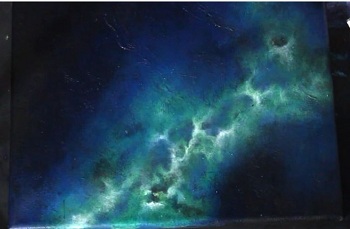 Next, I will add my artist loft brilliant blue and spray a wet brush with water to remove any excess dark blue from the lighter portions of the picture
Step- 4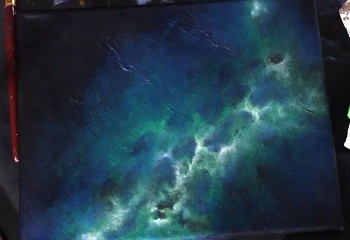 Here's a weird harsh line so to get rid of it, I'm going to bring in my turquoise just right there and we're making some adjustments to certain places
Step- 5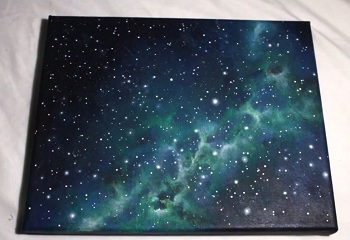 For the stars, all I had to do was paint some white acrylic paint on with a brush. Soak the brush in the paint. Carve it with your finger to shoot small droplets of paint. And there it is! What it looks like when it's completed.
Final Words
Discover how to paint your own galaxy with the help of our blog post. If you want an easy, no-mess way to bring some star power into your living room or bedroom, just follow these steps. This is what painting a galaxy on canvas looks like when it's all done and dusted. We hope this has been helpful for you today.
We have highlighted some of the best ways to paint your own galaxy. Now that you know all about how to paint galaxy, why not try out one of these methods? You can even start by trying our tutorial. Keep exploring and creating beautiful things. Happy painting!