LAST UPDATED: May 2nd, 2020
You need precise data if you want to deal with electronics. Thankfully, an oscilloscope is here to give you most of the details and statistics you need.
In this day and age, they are much more accessible than they have ever been. However, beginners still have a hard time deciding which one to get.

Different units cater to different needs, so it's hard to figure out which one you'll need. So, we created this comprehensive guide to help you find the best oscilloscope for you.
You'll learn what makes a proper oscilloscope, numerous extraordinary units in the market, and an idea of what to look for when buying.
So, let's not spend any more time with the introduction, and have a look at what characteristics these spectacular devices have.
Best Oscilloscope Comparison 2020
Last update on 2020-10-14 / Affiliate links / Images from Amazon Product Advertising API
Top 8 Oscilloscope Reviews

Now that we've learned what these tools are and bit about how they work, let's get down to the reviews.
We've gathered and carefully examined each oscilloscope and picked out only the finest devices we've come across. So, let's have a look at each of the reviews.
Rigol DS1054Z
Believe it or not, brand value is quite important when it comes to oscilloscopes. There are only a few companies that can dish out the quality that makes them a safe bet to buy. Among them, Rigol stands as a brand that assures quality better than most others.
So, what does this Rigol Oscilloscope have that makes it so special? From the interface to its specifications, it won't take long to see.
So, let's start with its versatility. The device manages to offer a ton of factors while only weighing about 6.6 pounds.
This is due to its light-yet-durable plastic build. As a result, it's much more portable than other devices, letting you take it to school, your laboratory, or hospital with little effort. However, the features are what truly set this device apart.
It is perhaps among the best digital oscilloscopes you'll have the pleasure of using. The 1 GSa/Sec sampling speed is beyond respect-worthy.
This lets the device fully utilize its 4 channels, letting you sample 4 different sources at the same time with accuracy.
In addition to its sample rate, it has an impressive 50 MHZ bandwidth. It works seamlessly with the sample rate and 4 channels set up to give you precise waveforms.
And it even comes with the free BND-MSO/DS1000Z software that lets you perform multiple functions like serial decode, deep memory, and record mode.
Once you consider all of this together, it's easy to see why people consider Rigol as one of the top oscilloscope brands out there.
Siglent Technologies SDS1202X
For our second entry, we'll examine a unit that offers sheer power. Of course, power isn't enough. So, it comes with a variety of other features that makes it excel as an oscilloscope. Without further ado, let's take a look at what it can do.
The first thing that stands out is its 200 MHZ bandwidth. It is a lot higher than one can expect from a price like this.
As a result, you can test a wide range of waveforms at an affordable price. In fact, if you focus on bandwidth MHZ alone, then this is probably the oscilloscope under 500 out there.
However, we can't focus on MHZ alone. Does it have other specifications to make it worthwhile? Absolutely.
It backs up the impressive 200 MHZ bandwidth with 1 GSa/use real-time sampling rate. That's great, but you can't utilize it without the right amount of memory.
Thankfully, this device comes charged with 14 Mpts. That might not seem much when you compare it to the previous model, but you have to realize that this has just two channels.
As such, it can concentrate on the two channels more intensely with its sampling speed and bandwidth, generating the most accurate waveforms you'll ever find.
Also, it has a color temperature display that helps you find areas of interest much faster than any other device.
Siglent Technologies SDS1052DL+
Some of us don't need anything high-powered. We might have smaller projects, or the extra capacity simply isn't necessary for what we have in mind.
So, why should we spend exorbitant amounts on a high-end device, whereas we can get something that matches our budget and preferences at the same time?
Accordingly, Siglent's SDS1052DL is here to satisfy those needs. It manages to maintain the essential features of an oscilloscope at a budget price.
Not only that, most of its features are perfect for someone just starting out, making it possibly the best beginner oscilloscope on the list.
Just from a glance at the interface, it's evident that this device is as user-friendly as it gets. It offers 32 different types of auto measurement built into it.
There are more functions such as a zoom function to have a closer look at the points of interest in the sample, and a pass/fail function to test your signals.
Now, let's take a look at its specifications. It has two channels where each can receive a maximum real-time sampling rate of 500 MS/Sec.
Besides, it also has a respectable 32 Kpts memory to store and provide precise waveforms for your use.
Nowadays, USB interfaces are an essential part of the quality oscilloscope. So, it'll surprise you to know that this unit is perhaps the best USB oscilloscope at this price.
With all these features at such a minuscule price, it's a deal perfect for anyone new to oscilloscopes.
Rigol DS1102E
Previously, we discussed an excellent budget model from Siglent. However, if you are a Rigol loyalist, looking for a superb budget analog unit, then the DS1102E has everything you need.

The first thing you'll notice is how a device this cheap has such a superb display is astounding. For one, it is a 64k color display, letting you get waveforms in color for easy identification.
On top of that, the display itself is backlit; meaning, you can see the results even when in a dark room with no lighting.
Of course, it doesn't have a high-tier resolution, but its 320×240 display does a great job of conveying the waveforms for a budget price.
That makes it excellent for collecting and storing inputs with its impressive 1 GSa/sec maximum sample rate.
This sampling speed wouldn't be impressive without its 100 MHz bandwidth. As a result, you'll get a wide range of waveforms for analysis.
To store all this data, the unit offers an amazing 1-million-point deep memory. So, once it accepts all the samples, you'll get along and detailed report back.
Along with all these features, multiple trigger modes include edge, pulse, width, video, and so on. Its high-tier analog channels also bolster this unit as one of the best analog oscilloscopes for this price.
OWON XDS3104E
Let's take a step back from the plethora of units from Rigol and Siglent and take a step towards a different direction and talk about a fantastic Owon unit to diversify the list.
However, don't let yourself believe that this entry is only here to add some variety. It brings a ton of quality to the table that earns it a spot on this list.
Starting off, let's talk about the extraordinary bandwidth capacity. This can range from a modest 60 MHz to an astounding 200 MHz.
As a result, you can obtain highly accurate data as the units' X and Y have a wider range capacity for the waveforms. It's made better due to the device's high sample rate.
Owon uses superb technology that reduces background noise to a minimum, keeping the waveforms as accurate as possible.
Also, it has a high record length with a maximum of 70,000 wfms/s waveform refresh rate. With that length, you can analyze large streams of data.
To represent this data the best way possible, the unit employs a great 8-inch LCD display with multiple features that push it to new heights. It has a touch-screen that makes navigation much faster and easier, especially for beginners.
The high 800×600 display gives you a great view of the waveforms, which greatly increases the scope for analysis.
Although it costs quite a bit compared to the rest, it more than justifies it. In fact, you can even consider it to be the oscilloscope under 1000.
Tektronix TBS1052B
We're on the sixth entry of our list, and it's about time we talked about a Tektronix oscilloscope.
They already have a long history of excellent units, but we felt that there was something special about the TBS1052B.
It is the perfect blend of quality, utility, and price that's hard to find in the market.
You might see the display and ask yourself if it really offers the kind of color it promises. We'll answer that for you, yes.
The display system can show a plethora of different colors to represent the data. As a result, they become easier to read and cipher.
Also, it's a 7-inch WVGA display with an 800×480 inches for you to view. So, it makes each detail easy to read and analyze.
Now, let's take a look at how it inputs and receives the data. Unlike the rest, which usually settles for 1 GSa/Sec, this doubles the amount for incredible sample rate speed.
This is available on all of its 2 channels without any kind of interleaving. To record this fast inflow of data, it has a record length of 2.5 Kpts per channel.
It comes with a plethora of tools to make your life much easier. Whether it's tools for troubleshooting or testing limits, it has a feature to support them all.
The unit's high capacity makes it suitable for any kind of use. So, whether you're looking for the good oscilloscope for Arduino or any other software, the fantastic Tektronix model will have your back.
Siglent SDS1104X-E
This may be the third time we're talking about a unit from Siglent, but rest assured, the unit still brings a lot to the table that makes it earn a spot on this list.
With such a top tier brand, it's only expected that they'd make their way onto the list a third time.
Its inclusion of a handy USB AWG module has pushed this model to the next level. So, what is this module exactly?
AWG stands for Arrayed Waveguide Grating. You can easily attach one of these onto your oscilloscope through its simple USB connectivity.
With this, you can multiplex and demultiplex your channels into a single fiber with ease. If that sounds appealing to you, then this is definitely up your alley.
Besides, it has a USB Wi-Fi adapter to help connect to the internet as well. What more could you ask for? Bandwidth?
Well, we are happy to report that this unit delivers a spectacular 100 MHz of bandwidth. Moreover, its sample speed stands at an impressive 1 GSa/Sec.
That rate can distribute itself towards its four channels, drastically improving your scope for testing and receiving input.
The device itself comes with a variety of intelligent triggers, including edge, slope, and pulse width, to improve your testing capacity.
Finally, we must talk about its history function. This feature helps you categorize and segment data even better.
It lets you playback the latest triggered events and stores past events up to 80,000 memory segments. So, if you have the budget, this might be the oscilloscope for a hobbyist.
Hantek DSO5102P
We've been occupied with a lot of the same brands, but don't let yourself believe that's all the market has to offer.
Hantek is just one of the many astounding brands we haven't had the pleasure of introducing yet.
Just because it is the last entry we'll examine, doesn't mean it's lacking. In fact, if you're looking for the best cheap oscilloscope, then we might have the perfect unit for you.
Yes, it is an extremely affordable option. As such, it is great for beginners who want to get a better understanding of how these devices work.
However, even we couldn't expect how a device this cheap manages to be so portable. It's small and light; it even comes with a handle to help you carry it everywhere.
Yet, it has a bandwidth of 100MHz. It even has a fast sampling rate of 1 GSa/Sec. There's a 7-inch color display, ready to help you view results at an 800×480 resolution.
If a device manages to fit such powerful hardware into such a portable device, we won't hesitate to call it one of the best handheld oscilloscopes we've ever used.
Besides, there are multiple trigger modes as well. There is a total of four math functions.
This, combined with the several automatic measurements, makes this the ultimate unit for measurements.
Best of all, it provides software so that you can conduct real-time analysis. So, if you're restricted by a budget, let us inform you that this might possibly be the oscilloscope under 300 dollars.
What to Look for in an Oscilloscope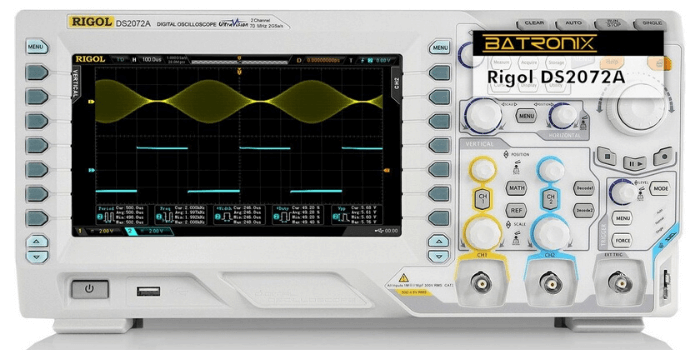 Before you take out your wallet, you have to keep some certain details you have to keep in mind. So, let's take a look at these features.
Bandwidth
Let us reiterate; this is the most significant metric of an oscilloscope's quality. Since bandwidth means it gives you a larger range of frequencies it can record, it essentially measures how accurately you can assess the waveforms from your inputs. So, bandwidth should be the first detail you note before you buy anything.
Sample Rate
Next, you'll need to keep an eye out for how fast the machine can gather the data. Since you're gathering more data faster, you'll get much more detailed waveforms. They'll also gather fast signals as well. So, do keep sample rates in mind as well.
Channel Number
When you're working with bigger projects, you'll need to analyze multiple signals at the same time. The more channels you have, the more waveforms you can analyze simultaneously. So, if that is important to you, you should consider it before you pick what to buy.
Memory
If you want precise analysis, you'll need long streams of data. So, a good oscilloscope needs to have the memory to get you that data. As such, keep a note of their memory capacity.
Software and Other Features
Some units come with the relevant software to use with your PC for real-time analysis. These are extremely handy features to have.
There are a plethora of other features such as automatic measurements, interactive display, and intelligent trigger modes that have a massive effect on how you use the machine.
So, if you're looking for the oscilloscope for automotive purposes, then you'll need to see if the machine has relevant supplementary features.
Purpose
Keep in mind that there are a lot of purposes for an oscilloscope. For example, if you're looking for the oscilloscope for audio, then you'll need to see if your chosen unit can do so.
Main Characteristics of Oscilloscopes
You must understand the attributes you can expect from these machines. They are not the same. Some are meant for automobiles, while others are meant for laboratories.
Nevertheless, there are some universal characteristics that you must keep an eye out for. So, before we get down to the oscilloscope reviews, let's have a look at these features.
Bandwidth Capacity
Whenever you want to buy a new oscilloscope, you'll look at the bandwidth first. It is an indicator of the range at which the oscilloscope can accurately record information. The higher the bandwidth, the wider the range you can measure.
As such, it has a direct correlation with the capability of each unit. No matter what type of device you're going for, the bandwidth is vital.
If you're not sure if a device has enough of it, there is an easy rule to follow. Make sure it is five times higher than the maximum signal frequency.
If not, it can't provide an accurate assessment of the wavelengths. Remember, the bandwidth is measured in megahertz (MHZ).
Sample Rate
The second most vital aspect of any oscilloscope is its sample rate. It is essentially the number of samples you can input into the device at a time.
So, a higher real-time sample rate means you can sample more of the input and render it into a comprehensible record.
As a result, more sample rate lets you record more volatile signals. Lower sample rates are also acceptable if your projects mostly focus on slow-changing frequency as opposed to fast-changing ones.
However, in a general sense, it is ideal for getting a device with a better sample rate than one without.
Since they can take more info, they offer the most accurate information. Usually, general oscilloscopes have a maximum sample rate of 1-2 GS/s. The rates only increase as quality does.
Vertical and Horizontal Sensitivity Range and Control
These devices output an easily understandable X-Y graph, where the vertical Y-axis represents the voltage level, and the horizontal X-axis represents the time base.
This ultimately creates a representation of the waveform calibrations of the devices. The range is how much the machine can represent within those graphs.
Control, on the other hand, refers to something else entirely. For vertical, the control refers to an option that allows you to calibrate the vertical deflection sensitivity.
This is handy if you're dealing with a lot of varying ranges of the input amplitude. The horizontal sensitivity control refers to your ability to adjust external horizontal inputs.
Memory
These devices need to process and portray a ton of inputs. For long-running experiments, you might have to collect data for a long period.
However, if it is unable to store that data and relay it to you, you won't get accurate results.
As such, memory is important. The more memory a device has, the more data it can store and show. As such, the memory unit is an integral part of an oscilloscope.
Number of Channels
If you want to work with these machines, it's likely that measuring and evaluating one circuit point at a time isn't enough.
That's why these devices come with multiple channels that can help you compare and evaluate signal sources.
Each channel is differentiated, so the samples go to their rightful channel and record. Do note that using multiple channels can reduce your maximum sample rate.
Noise
Noise, in these terms, records to interruptions that muddle the reception of data. Poor oscilloscopes generate a high amount of noise, while the opposite is true for high-end units.
If you strive for accuracy, then a lower noise level is nothing short of vital to an oscilloscope's creation and features.
FAQ's of Oscilloscopes

Here we have some of the most commonly asked queries regarding oscilloscopes:
Are 2 channels worth it?
It is if you don't need to gather too many signals simultaneously.
How important is firmware update?
Very. Make sure you always keep your device up to date.
Can I update the firmware through USB?
Some units support USB updating. It is possible for those units.
Are they noisy?
Some are, some aren't. It varies from unit to unit, but you can assume that larger devices are more likely to make more noise.
Conclusion
It took a while, but you're now knowledgeable about everything you need to know about these devices. Keep the details in mind and consider them carefully. With enough care and consideration, you can buy the best oscilloscope for whatever work you're doing. Once you do, analyze with finesse!