Looking for a quality oscilloscope isn't easy. At first glance, it's hard to differentiate, and you won't get a feel for the quality until you use it yourself.
While there are quite a few brands that can assure you that desired quality, few have done so as Rigol.
Their legacy of incredible scopes speaks for itself. Criticism is often rare, and their effective customer service pretty much assures a good experience.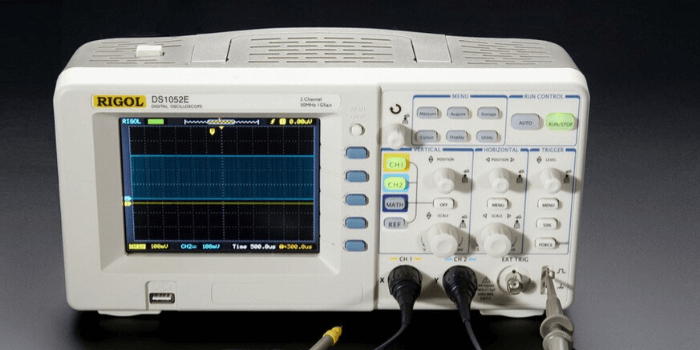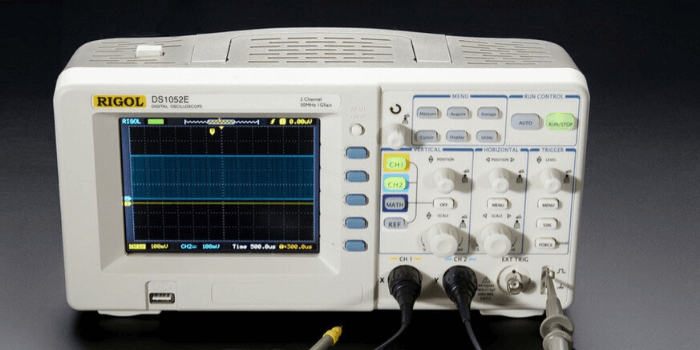 So, whether they're a beginner or a seasoned veteran, everyone wants to get a hold of the best Rigol oscilloscope out there.
However, they have a long line up of excellent units. Even with quality assurance, you can't just choose one unknowingly. So, we've constructed this comprehensive guide.
Read through our top 5 picks and our buying guide, and you'll be fully prepared to buy the model that suits you the best. So, take a seat and read carefully!
Why Rigol?
Although China has a reputation for inferior quality, Rigol is a stellar example of why that's not always true.
This company, founded in 1998, set one goal in mind, make research cheap and accessible to the masses.
Of course, research is a very delicate task, and electrical engineering tools need exceptional quality.
However, Rigol didn't let that stop them. In fact, it's almost astounding how they were able to maintain such an inexpensive business model while also providing quality products.
This fact is even a general consensus among experts and beginners alike. So, if you're looking for an oscilloscope at a reasonable price, Rigol is your best bet.
Rigol Oscilloscope Comparison
Last update on 2023-01-23 / Affiliate links / Images from Amazon Product Advertising API
Top 5 Rigol Oscilloscope Review
Enough with the introductions. It's time we introduce you to our top 5 picks from the brand. We've gone through extensive testing and retesting to arrive at these 5 products ultimately.
So, you can rest assured that they're the best of the best. So, let's see what they have to offer.
Rigol DS1054Z Digital Oscilloscopes
The DS1054Z is a fan favorite, especially among beginners. Each of its features is perfect for a new user.
It's not as heavy-duty as some might like. However, we wanted our first entry to cater to those who want to start out; those who are not very aware of how one of these scopes work.
That's because the DS1054Z has an excellent user interface. The system has gorgeous buttons, each of which feels wonderous to touch.
Some buttons are wonderfully color-coded. Each channel has a unique color so you can identify them quickly whenever you need to.
And each function is just a button away, so it saves time from searching for the right setting. The Rigol DS1054Z's price is considerably lower than most of its contemporaries too.
The unit has a 4-channel capacity, all of which are on the face of the device and easy to access and input.
With four channels, you can gather signals from multiple sources simultaneously. This makes data comparison much easier and faster.
However, the main speed stems from its incredible sample rate. With a rate of 1 GSa/sec, it can gather signals at a very fast pace.
As such, the waveforms become dense with information; your analysis becomes more enriched; since you have more data to work off of.
This speed capitalizes on the device's bandwidth. The Rigol DS1054Z bandwidth stands at 50Mhz, which certainly is enough for a beginner.
In addition to this, it has a 24 Mpt memory. This makes your analysis much more accurate. While it does have 12 Mpt deeper memories, it's important to note that you can upgrade that to 24 Mpt for great effect.
We haven't even begun to mention all the little skills. This includes automated measurements, math functions, and software to use on your PC. So, if this Rigol DS1054Z review speaks to you, then you should consider it.
Check Latest Price
Rigol DS1102E 100MHz
For our second option, we'll introduce something with a bit more power on its side. Of course, it backs up that power with a plethora of supplementary features that lets this unit shine. As such, it's evident that the DS1102E has a lot to offer.
So, if you want an oscilloscope with a solid two analog channel set up, then you'll love this.
To start off, we have to mention some of its incredible hardware.
We're dealing with 100 Mhz bandwidth, much more than you can normally expect from this price point. It's a very economically efficient way of analyzing a wider range of frequencies.
As such, you can test a plethora of different sources, from lightbulbs to generators. It's easy to carry, weighing just 7 pounds.
You also get all the cables you'll possibly need right out of the box, including two cables for the analog channels.
The high sample rate makes the most out of the device's bandwidth. It clocks in about 1 GSa/sec, capturing most signals that come at it.
As such, you get very detailed waveforms. For more accuracy and better analysis, the device utilizes an impressive 1 million deep point memory.
This lets the device have a much longer record length than usual, granting you more data to work with at the end of the day.
The display also conveys the information well. This Rigol model gives you everything you need for a solid analysis.
We should also take some time to mention its many trigger modes. Whether you want edge, pattern, slop, or video, it has them all.
It has the ever crucial built-in FFT function included in its math features. The scope can also deliver precise pass/fail tests. It's an excellent all-round model that is more than worth your attention.
Check Latest Price
Related Review: Check out USB oscilloscope review and buying guide.
Rigol DS1052E 50MHz
When it comes to sheer features, not many have the sheer quantity that this unit does. All of these together make for an excellent device that makes your analysis very simple.
In fact, it allows you to take a plethora of different approaches to get the most accurate information and make proper assessments.
So, let's start off with its automatic measurement features. This scope goes above and beyond with 20 automated measurement options.
This saves you the time from calculating yourself and makes the analysis process faster. Besides, it also 5 different trigger options.
These are alternate, video, slope, edge, and pulse width triggers. Subsequently, it opens up your options on how you want to approach your tests.
The scope operates very quietly. You'll barely hear it running once you start it. This is because Rigol emphasized on a low noise but a high-performance device for the DS1052E.
That's right; you can expect a lot from this 50mhz oscilloscope. From its range to its sampling speed, it's something you can respect.
Like we mentioned before, this is a Rigol 50mhz digital oscilloscope. As such, it has an impressive range of frequencies it can observe.
If that wasn't enough, it's impressive 1 GSa/sec sampling speed should impress you. It utilizes both features to grant you exceptionally detailed waveforms for whatever you want to text.
The o-scope makes sure you have the most freedom. As such, you can adjust trigger sensitivity to something that suits you best.
You can conduct pass/fail tests if you need and even manage files on it. Right out of the box, you get a CD to install the supplementary PC software.
You can use it for even more in-depth analysis and get the most out of this device. At the end of the day, it's relatively inexpensive too. It's undeniably a good investment.
Check Latest Price
Rigol DS2072A
When you're in a lab, you want to get the highest sampling rate possible. However, that comes at a cost. Any device with over 1 GSa/sec speed can have a hefty toll on your wallet.
However, if you must have one, Rigol offers a superb option at a reasonable price. Although it is comparatively cheaper than its competing models, it can cost you upwards of 500 dollars.
Nevertheless, this unit is nothing short of a fantastic investment for several reasons. Namely, its ability to deliver a 2 GSa/sec sampling rate for its price.
That's twice as much as the devices we've reviewed previously. As such, you can expect double the density and accuracy of your waveforms.
Points of interest are easier to find, and a general lack of lost signals makes the output significantly accurate.
While that might not seem that important for someone working on basic electrical engineering, it's almost a must-have for a lab environment.
Since they offer dense and highly accurate results, you're essentially getting a plethora of data to work with.
As such, it makes your assessments and analysis more legitimate. So, this is the best option if you're searching for an oscilloscope for your lab.
Enough about its sampling rate, what else can this device do? For starters, it has a decent 70 MHz bandwidth.
Although that doesn't make the most out of its sampling speed, it's still a very respectable amount that can cover most of your frequencies.
Nevertheless, the place where this unit truly excels is its plethora of supplementary features. It is chock-full of innovative technology.
This includes fantastic features like the ultra-vision and vertical sensitivity options. Moreover, it has a brilliant 50,000 wfms/s acquisition rate. It can record data in real-time too.
The history function gives a lot of room for reanalysis and reexamination as well. So, if you can afford a higher-end model, then look no further than this state-of-the-art oscilloscope.
Check Latest Price
Rigol DS1104Z Plus 100 MHz
For our last entry, we have an all-rounder unit that covers most of the bases you'll need for a unit. It's likely the best choice if you're already somewhat familiar with an oscilloscope, and you want something you can rely on for general tasks.
From its build quality to the kind of materials it uses, it makes sure you can get to use it straight out of the box with little-to-no trouble. So, let's see what it can actually do.
The device comes equipped with four channels. Each of which is smartly color-coded so that you can identify them easily.
It also helps keep track of channels and operate accordingly. Along with that, the unit has 16 digital channels for you to work with.
As far as bandwidth goes, it has a capacity of 100 MHz. As such, it has a good range. Coupled with the 1 GSa/sec sampling speed, you get a very respectable device that can output waveforms very effectively.
Moreover, the 24 Mpt memory only bolsters this further. As such, it generates superb waveforms fit for quality analysis.
To make the analysis easier and more intuitive, the scope comes with a free software bundle. This makes the device accept input better and allows for more quality records. It's already built into the unit, so you don't have to worry about installing it either.
Other functionalities allow you to quickly zoom into a point of interest to analyze it further. Within a matter of seconds, you get to analyze something much faster in greater detail. With all that is under its belt, it's a solid scope at a reasonable price, suitable for hobbyists and others.
Check Latest Price
What to Look for Before Buying Rigol Oscilloscope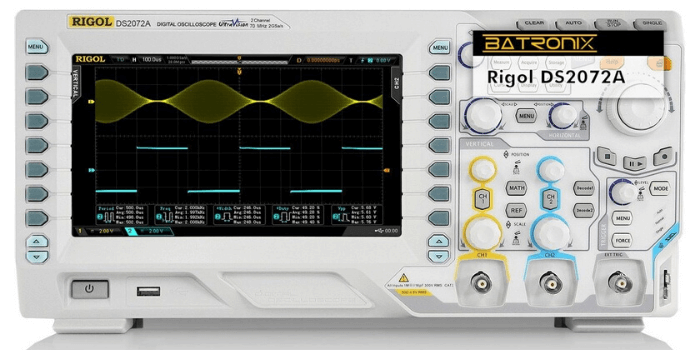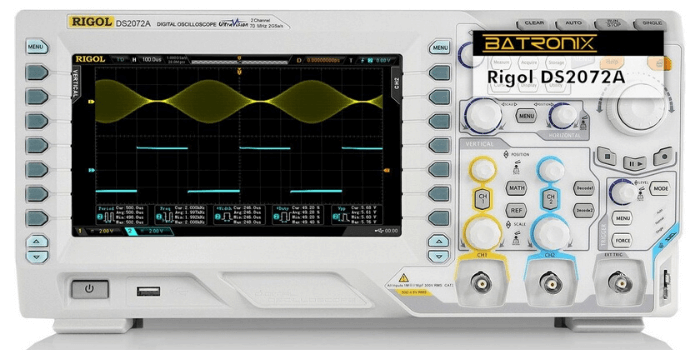 We've gone through many Rigol oscilloscope reviews, but before you're ready to make a final decision, you still need to know a few key aspects to take note of.
These are some general metrics that determine the quality of pretty much any oscilloscope. Give it a good read, and you should be able to learn everything you need to know.
Sample Rate
Sample speed is essentially how many signals an oscilloscope takes in per second. Usually, stationary units have around 500 MSa/sec to 1 GSa/sec. Very high-end units can offer a 2 GSa/sec speed as well.
In essence, the sample rate is integral to the quality of a scope. The higher the sample rate, the more detail you can get back from a test. And the waveforms show more, and as a result, your analysis becomes more accurate as well.
Higher sample speed means that the device doesn't waste any signals and can gather and construct a proper assessment.
If it's unable to catch a reasonable number of signals, the end result will lack accuracy as well. So make sure whatever you choose has a decent sample speed going for it.
Bandwidth
This is probably the most important feature of any oscilloscope. It's the measurement of what frequencies a scope can record. The more it has, the diversified its usage becomes.
As such, if you know you'll deal with tests from a plethora of sources, then higher bandwidth is essential.
Usually, you can expect bandwidth to stand from around 50 MHz to 200 MHz. More isn't very necessary unless you're in a very demanding laboratory setting. Less is acceptable for light electrical engineering activities.
Channel Number
The more channels a unit has, the more signals it can take in from simultaneous sources. It is great if you're trying to compare signals for your tests.
As such, the channel number requirements depend on the kind of tests and projects you're going for.
Price
These devices can be very expensive. Even though Rigol is generally cheap considering the quality, your wallet won't escape unscathed too.
So, you have to consider the price as well. See what you need and compare it with prices. Make sure whatever you get is well worth the price you pay.
Memory
A proper o-scope needs to have a good record length as well. The more it can record, the more you can analyze and obtain a proper assessment of quality.
As such, it is a vital part of a scope's quality, and you must take it into consideration before you buy it.
Frequently Asked Questions
Here we have some of the most commonly asked queries regarding Rigol oscilloscopes:
Is the sample rate more important or bandwidth?
It depends on what you're trying to do. If your tests focus more on varied frequencies, then bandwidth is important. On the other hand, if you need to capture signals faster, then you need more sample rates.
Is Rigol reliable?
Yes. They are generally considered very reliable and affordable.
What does triggering do exactly?
It basically filters the waveforms and shows you the kinds of data you want to see.
How important is a firmware update?
These updates can help solve issues and make the device faster. So yes, it is very important.
Do I need to use PC software?
They're usually handy if you want to analyze the waveforms in real-time. It isn't mandatory, but it can be handy in certain situations.
Conclusion
It's hard to make a Rigol oscilloscope comparison. They are all stellar units that excel in one form or another. However, you are now equipped with the knowledge you need to pick out the exact scope you need.