If you have ever been to an electronics laboratory at your university, you have definitely seen a device with a small TV screen, wondered what it does, and why there are so many of them.
Well, it is an oscilloscope that is used to inspect electronic signals. Your research laboratories have tons of them because it is the most fundamental device for any electronic operation.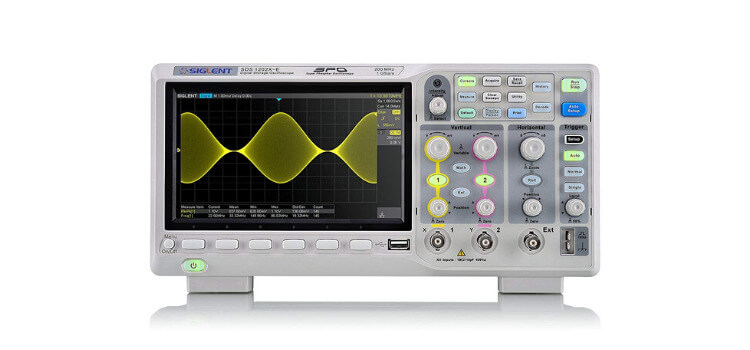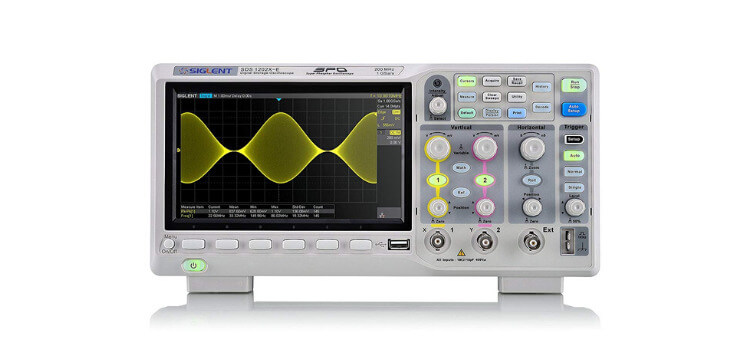 Oscilloscopes can be pretty expensive, depending on their functionality. However, there are some cheap ones with impressive features that will fulfill all your requirements in your budget.
Best oscilloscope under 1000 dollars might be a bit tricky to find. So, we are here to help you to pick the right one for your electronics workshop.
Best Oscilloscope under $1000 Comparison
Last update on 2022-11-23 / Affiliate links / Images from Amazon Product Advertising API
Best Oscilloscope under $1000 Review
Depending on your required bandwidth, time and frequency division range, the number of channels, and, of course, your budget, you will get a lot of options in the market. Here, we reviewed some of those.
Rigol DS1054Z
The world of digital oscilloscopes is pretty vast. If you are a newbie in this area and want to purchase one for regular home and laboratory projects, it is always better not to get knee-deep into the expensive devices.
This Rigol model is a powerful yet budget oscilloscope that you can consider.

While being very cheap, the DS1054Z has four channels that can measure and compare four different signals at a time.
Thus, if you are working on a powerful Arduino project or any project that requires a calculation of signal or logical relationships, you can always count on this oscilloscope.
The oscilloscope comes with a free software bundle, graded intensity display, and lots of mathematical functions.
This display is large and shaded in 64 levels that allow you to zoom in and focus on any point of the signal quickly and accurately.
It is a benchtop style oscilloscope with a high resolution of 800 X 480 pixels and a sampling rate of 1GSa/s.
Bandwidth and memory depth being upgradeable makes the oscilloscope even more lucrative. The standard bandwidth is 50 MHz that can be extended to 100 MHz if necessary.
And the same goes for the memory depth, which can be extended to 24 Mpts from the initial 12 Mpts.
Being of reasonable price with a large and well-equipped scope, this Rigol oscilloscope is suitable for any laboratories.
Check Latest Price
Siglent Technologies SDS1202X -E
One of the most powerful oscilloscopes under 1000 dollars is the SDS1202X-E. For someone who has just gotten into the realm of digital oscilloscopes, this particular one is enough to provide the bandwidth and features to measure all simple and a lot of complex signals.
ts non-reflective display of 256 graded intensity is a luxury for a very low price.
The oscilloscope has two channels and a bandwidth of 200 MHz. It is an optimum frequency range for moderately complex projects.
The sampling rate is 1 GSa/s in real-time that can capture and store signals rapidly with impressive accuracy. Memory depth is upgradeable up to 14 Mpts.
Many useful functions that are not usually present in a cheap oscilloscope are integrated into this one.
Serial triggering and decoding, Fast Fourier Transformation (FFT), Windowing techniques, along with the regular signal operations, enable the user to finish most of the calculation in the scope.
Furthermore, it has a USB PC host so that you can share the workload of the scope with your CPU.
The ergonomic design, lit buttons, and color temperature screen give the oscilloscope a deluxe look and nice portability.
It also happens to consume surprisingly low power, almost half of what regular oscilloscopes consume.
Also, the signal accuracy and swift operations of the Siglent oscilloscope are unquestionable.
Check Latest Price
Related Guide: Oscilloscope under $500 guide.
Siglent Technologies SDS1052DL+
For general purposes, the perfect balance of price and performance is this oscilloscope.
Unless you need to analyze and dissect extremely complex signals, you can rely on this oscilloscope just fine.
In fact, the SDS1052DL+ is the improved version of the previous SDS1052DL with a high-resolution LCD display.
Among the 50 MHz bandwidth and two-channel oscilloscopes, this popular Siglent model comes with the best functionality at the lowest price.
500 MSa/s real-time sample rate, 10 GSa/s equivalent time sample rate, and 1 Mpts record length make it perfect for undergraduate laboratory work, basic electronics workshops, and regular use of an electrical engineer.
Well-constructed with a compact design, the dual-channel oscilloscope has adjustable sensitivity for accuracy.
Moreover, the advanced trigger options like edge, pulse width, slope, and built-in mathematical operations provide accurate measurement and analysis of any voltage signal.
The oscilloscope can be connected and operated through a computer, which makes it faster and easier. This procedure will divide the workload between the scope and the CPU.
In this way, you can get the best result out of the cheapest oscilloscope. A user manual comes with the oscilloscope that makes it easier to get introduced to all the functions and navigate through them.
Check Latest Price
Rigol DS1102E
Finding a good oscilloscope under 1000 bucks can be a tricky business if you do not know about what different brands offer.
Rigol has always been a brand of trust for the enthusiasts of electronics.
This particular model of Rigol provides a bandwidth of 100 MHz, 1 GSa/s sampling rate, and two analog channels with an external trigger channel.
For hobbyists and regular users, the real-time sampling rate, equivalent sampling rate, and bandwidth are satisfactory for most signal operations.
1M points of memory depth enable the user to analyze a flawless wave with accurate signal measurements.
Even though it only has two channels, the additional trigger channel is a bonus for the engineers and technicians using this brand.
The LCD display is 5.7 inches with a backlit feature. It's "auto" function helps to transform the waveforms in a way that is easy and comfortable to read.
Not to mention, the cooling fan provided with the oscilloscope is extremely helpful while making minimum noise.
The noise is mild enough not to cause any distraction in the workshop. Twenty auto measurements for signal parameters are integrated within the scope.
It is able to connect with computers and also has powerful software enabled. You can capture, measure, save, and print waveforms and files in this oscilloscope.
Overall, it is a wonderful option for a budget oscilloscope with high bandwidth and lucrative features.
Check Latest Price
Sainsmart DSO212
A unique and cheap oscilloscope that will fit into your pocket and travel with you around the world, the DSO212 is the most popular of its kind in the market right now.
If you have to run to and fro while working on a project, this portable mini oscilloscope will be your best companion.
It is impressive how so many astonishing functions can be integrated into this small box of usefulness.
Most pocket-sized oscilloscopes have only one channel, whereas this particular one has two channels in it.
The colorful display can show AC current of numerous waveforms from sine function to sawtooth function.
It is small enough in size that makes justice to its name. Also, it is made of aluminum alloy, is compact and lightweight with the functionality of a full-fledged oscilloscope.
Much like a smartphone, you can operate it with taps and swipes. You do not have to push buttons endlessly to get to the desired result.
As simple as it is to use, saving and transferring data is even simpler. It has an 8 MB storage that allows you to store your data and transfer them to your computer very easily.
1 MHz of bandwidth, 10 MSa/s sampling rate, and 8 Kpts memory depth shows that the oscilloscope can be used for versatile projects of your school, home, or work.
It also happens to have an integrated signal generator that can produce basic waveforms of up to 1 MHz.
Not to mention, adding further operational features is also not impossible in this pocket oscilloscope.
Check Latest Price
Hantek DSO5072P
The DSO5072P has earned its place among the best-selling oscilloscopes in the market. Can you imagine getting your hand on one of such scope under 1000 bucks?
Due to the impressive quality and amazing specs of all Hantek models, the brand is pretty renowned among the professionals.
This DSO5072P is not lagging behind in quality either. A wonderful color display with a 7 inches screen makes your signal wave look real and alive.
Analyzing and measuring the signals in the clear, pristine screen is very comfortable. It also comes with an amazing expandable bandwidth feature.
The standard 70 MHz can be upgraded through 100 MHz up to the large bandwidth of 200 MHz. A frequency range this high at such a low price is rare.
The sampling rate of the device is 1 GSa/s. And the record length is 40K – good enough to last a whole busy day.
It also gives you the storage facility, so you do not have to go through the hassle of saving your records on different devices.
However, you can save the data elsewhere if you want to, through the USB connectivity. You are also given software for complicated, accurate, and quick analysis of signals.
Available trigger modes of this oscilloscope are as good as a high-end one. Also, automatic measurements of signal parameters make the work so much easier for the user.
So many features in an inexpensive device like this are hard to find. It makes you more efficient in an economical way.
So, if you are a beginner looking to start with an allrounder oscilloscope, this can be the one for you.
Check Latest Price
OWON XDS3104E
Under 1000 dollars, one of the best oscilloscopes with versatile specs and communication interface is the XDS3104E.
This oscilloscope has features unique to itself and pretty uncommon in other scopes of this price range.
The 8 inches color display is one of its distinctive features. Its resolution is 800 X 600 pixels, which is a larger number than most other scopes.
Along with the picture-perfect display, the scope has advanced technology integrated into it. This four-channel oscilloscope can function for signals of 100 MHz at maximum with a real-time sampling rate of 1 GSa/s.
The 40 Mpts record length will allow you to go days at a stretch without needing to store your data elsewhere.
The touch screen technology is the most impressive part of this scope. It has an embedded wifi module that allows you to view the screen from your phone or computer.
In fact, you can control the display from other devices as well. This feature is absent in most other oscilloscopes that come within a tight budget.
Also, the communication interface included in the device consists of all sorts of USB connectivity for Trig out (P/F), LAN, and VGA.
You can find the fundamental trigger and decoding operations of an expensive oscilloscope in this one as well.
It also supports SCPI and Labview. The device is filled with features to apply in electronics, power supply, and the medical field.
Check Latest Price
Tektronix TBS1102B
"Advanced" is the perfect word for this particular model of the Tektronix series. The technology used in this scope is so advanced that it can almost cover for any regular high-end oscilloscope.
It is not a surprise that the scope has made its place among the best oscilloscope under $1000.
For an in-depth study and analysis of signals, you might not find an alternative as good as this one.
The scope has the following fundamental features: 70 MHz bandwidth, a maximum sampling rate of 2 GSa/s, automatic functions, color display of 7 inches, zoom function, FFT function, and many more.
Surprisingly, the scope is very lightweight and easily portable. With so many useful functions, the portability only adds up to its wholesomeness.
You might wonder, with all the complex functions, how well the scope can actually perform different operations on the signals.
In that case, the solid performance and high accuracy will undoubtedly leave you in awe.

The scope captures the signals perfectly, performs necessary operations on them, and displays them in the clearly visible screen in shape that is easy and efficient for the user.
Is it complicated to use such a high-tech device? Not at all. Despite the wonderful specs, the device is extremely user-friendly.
Even for a beginner in the field of signals and systems can get used to it with the help of the manual.
The control knobs are easy to get used to, and so are the probes and connectivity interfaces. It is truly an advanced scope for a lucrative price.
Check Latest Price
What to Look for in an Oscilloscope Under 1000?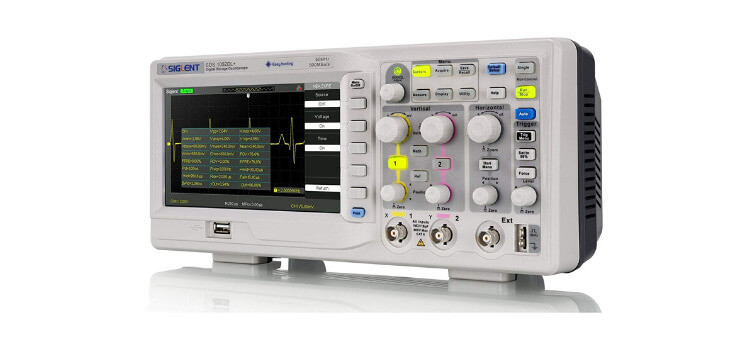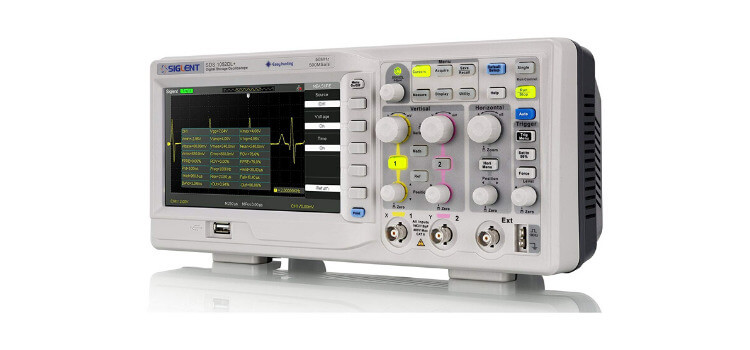 If you are looking to buy an oscilloscope, you already have enough knowledge about the technical support you need for your projects.
While in a tight budget, you might not get all the luxury a high-end scope might offer, but you should consider some key factors.
Here we will mention some fundamental specs of an oscilloscope that can have a major impact on your work.
Bandwidth
The bandwidth of your oscilloscope will determine the highest frequency you can work with.
If your regular work includes comparing and measuring signals of really high frequency, you should look for a scope that covers your required range.
Your oscilloscope must have a bandwidth twice the frequency of your signal to avoid excessive noise and aliasing effect. 
The Number of Channels
For students or hobbyists, dual-channel oscilloscopes work just fine. However, you can also get four channels in some budget scopes.
Again, it entirely depends on the type of operation your signal requires. For multiple signal comparison, multiple channels are required.
Sampling Rate
The higher the sampling rate is, the better the resolution you get on your screen. This rate determines how finely and accurately the waveform will appear in the display.
And the scope of a high sampling rate will make the work a lot more accurate and easier.
Record Length
The record length will define how much data you can store in your device. Usually, scope with high points of memory depth can go days without getting full.
If you need to store a large amount of data in your scope, look for one that has a high rating of memory depth.
Automatic Measurement
Automated measurement is very convenient for completing tasks quickly and efficiently. With this feature, all you have to do is to tap on the correct button, and the measurement will be right in front of you. Try to look for as many automated functions as possible while shopping for a scope.
Display
It is irrelevant how many advanced functions you have in your scope if your display cannot show them clearly.
A pristine color display with high resolution and bigger screen can be a gamechanger any day. So, look for the specs that the display offers before settling for a scope.
Connectivity
Depending on the type of signal processing, you might require different connectivity interfaces.
Oscilloscopes offer memory card slots, USB port, programming interface, Labview and other signal analysis software support, and many more. 
User-Friendly
A simple, user-friendly oscilloscope can often be more functional than a high-tech one with complicated operations.
Also, a good oscilloscope has a control panel and manual that are easy to navigate. The integrated interface should also be easy to utilize.
Frequently Asked Questions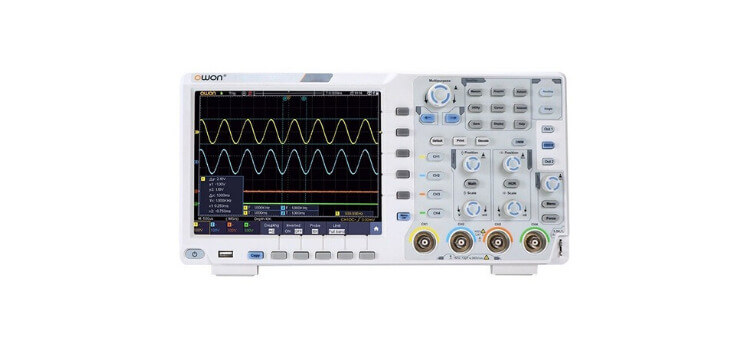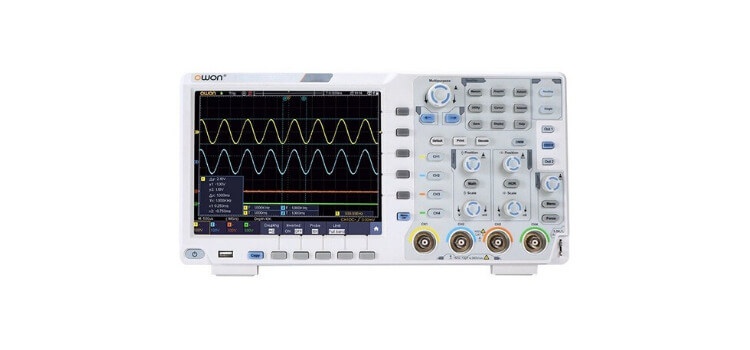 Some common queries of people looking to buy an oscilloscope are:
What is the difference between a digital and an analog oscilloscope?
While an analog oscilloscope can only display a signal, a digital one can display, save, measure, process, and transfer data. A digital oscilloscope provides versatile functions, a broader frequency range, and more accuracy.
Do I need an oscilloscope for electronics projects?
Oscilloscopes can display, measure, and perform several mathematical and logical operations on signals.

From simple to complex projects, an oscilloscope is essential for accurately design, debug, and troubleshoot circuits.
What is bandwidth?
An oscilloscope's bandwidth determines the highest signal frequency you can work with.

Usually, the bandwidth should be twice the frequency of the signal you are going to measure.
Can I connect my oscilloscope with my computer?
If your oscilloscope provides USB connectivity, you can easily connect your PC with the oscilloscope.

You can store and transfer data from your scope to the computer. Some oscilloscopes provide application control where you can control the display through a different device.
Which type of signals can I measure with an oscilloscope?
The fact that oscilloscopes can only measure AC or DC voltage is wrong. You can measure sound waves, electrical currents, digital pulse, and many other types of signals according to the functionality of your oscilloscope.
Final Words
Oscilloscopes are not only essential for engineers. Power supply workers, automobile technicians, health care services, and even hobbyists might use an oscilloscope for signal measuring purposes. Therefore, the importance of a good oscilloscope at an affordable price is indisputable.
The eight best oscilloscopes under 1000 dollars mentioned in this review are all equipped with amazing properties. Given the functionality, you can pick any one of them, and you will not be disappointed.