While working with sophisticated electrical boards, the second most vital thing that you rely on after your eyes is a soldering station. Using the right tool can change the entire output of an electrical project.
If you are somewhat familiar with soldering, you may know the names Hakko and Weller. These two brands are two of the giants that lead the market out there. But choosing between Hakko vs. Weller soldering station can be a difficult task for most users.
This piece of write up is just for you to clear up all of your confusion. We are going to put these two brands under our microscope to find out which one is worth your money.
So, let's get started!
Hakko vs Weller Soldering Station Comparison
Image
Product Dimensions
5.91 x 8.86 x 12.4 inches
Last update on 2022-11-25 / Affiliate links / Images from Amazon Product Advertising API
Hakko Soldering Station
We start our case with the Hakko soldering stations. Over the last 60 years, this Japanese brand has gained much popularity in the soldering field. It brings modern technology into the palm of your hands through diverse electrical items.
From 40 watts to 65 watts, you can find a different range of power setup from Hakko. Surprisingly, this power comes with an impressively lightweight setup. Easy to handle and convenient to use, Hakko soldering stations are truly some of the best you can find.
Recommended Hakko Soldering Station to Buy
So, which Hakko soldering station to buy? Well, we recommend our readers to try out any of the following two models. Quality, durability, serving the purpose – these three things are considered the most while choosing these options.
1. Hakko FX888D-23BY
The first one that we believe you should try out is the FX888D-23BY from Hakko. If you are not planning to overdo in your soldering works, rather just stick to the basics, this one has no alternative.
It comes with a powerful 65-watt system that allows you to use it quite freely on different metals without restrictions. Be it with lead or lead-free soldering – this one has got your back.
Weighing just around 2.6 pounds, it surely will give you a feeling of true ruggedness. It's super-robust and contains a ceramic heating ingredient inside. Together, it makes it easy to solder with a little bit of effort in application.
Kick-starting from 120-degree Fahrenheit, this one can achieve heat level up to a staggering 899-degree Fahrenheit. Although the range is pretty long, the way it accelerates will surprise you.
It only takes about 20 seconds to reach up to 660-degree Fahrenheit. That saves you a lot of time that you don't want to waste while sitting for a vital project, right?
The best part of this setup maybe something that's not related to soldering. Surprised? We are too. The FX888D-23BY is a password protected device.
If you are not feeling at ease with kids or noobs trying to sneak a peek into the machine, you can just lock it with a password. It's that simple, just like locking your smartphone.
A handy feature of it is its low-temp alarm option. If the temperature on it is going low for some weird reason, it will automatically ring a bell so that you can immediately fix it.
Latest Guide: Best Hobbyist Benchtop Power Supply
2. Hakko FX888D,T18-B,BL,I,D24,D32,C05,S7,599-029
If you like the FX888D basic version as we have reviewed here, there is better news for you. The FX888D comes in another great package with some additional tips to make your soldering sessions more functional.
This package houses the same FX888D soldering station but with 7 different tips to adjust it to work with numerous projects.It comes with the default 65-watt powerhouse to run the device for any general project.
With any tip being in use, the machine can still produce the same extent of heat. Beginning from 120-degree Fahrenheit, the FX888D can reach almost 900-degree Fahrenheit of temperature in the shortest time possible.
Again, just like the original one, it comes with a basic low-temperature notification system. Whenever the device is getting low on heat, it will self-start an alarm notification for you to check what's the fuss about.
Increasing the temperature may sound like a long time to wait for. But with this machine on our hands, things are a bit different. It can level up the temperature by 27-degree Fahrenheit every second.
This champ brings with it a digital display on it. You can navigate the display with the help of two buttons on it. Although the buttons can move you just upward and downward, it still is handy.
With this one in your hand, you can skip setting the temperature on your own. That's because you can find 5 preset temperature settings on display.
Now, that means you can quickly select a heat level, and the tip will reach the heat automatically. It exempts you from manually selecting the heat level.
In addition to metal, this one is also capable of soldering strained glass. However, you may not want to start with high heat right away. Just start slowly and increase gradually.
Related Guide: PCB Milling Machine Review
Weller Soldering Station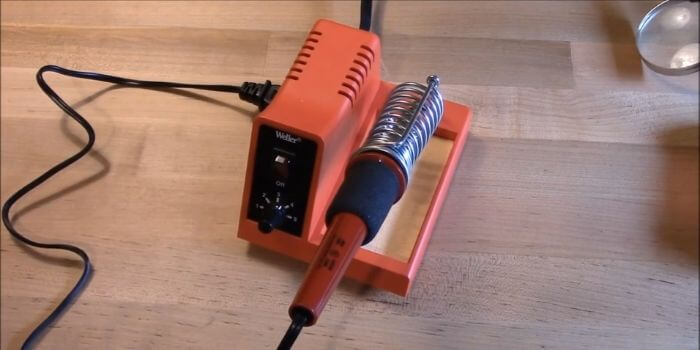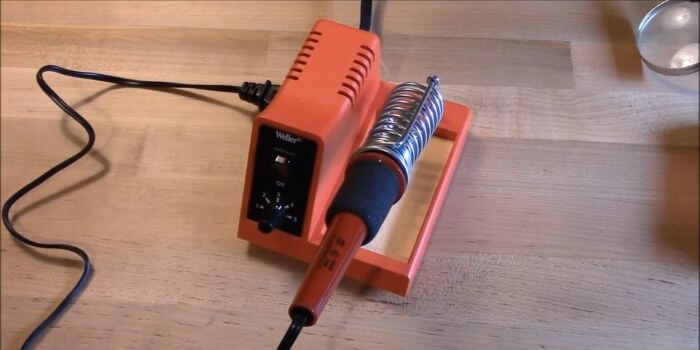 Weller soldering station is yet another popular brand that manages to rule the market with unique products. Weller soldering irons are UL, CE, and ESD certified for safety measurement.
From 40 to 70 watts, Weller can appear in different power capacities. In addition, Weller brings in LCD screens for easy navigation and setup.
With heating capacity up to 900-degree Fahrenheit, Weller can be a perfect choice for your day to day electrical soldering projects.
Recommended Weller Soldering Station to Buy
If you are planning to try out Weller, we have some good pieces of stations from Weller, too. Here is the first one that we would like to present.
3. Weller WLC100 40-Watt Soldering Station
If you are a hobbyist, student, or a DIY enthusiast who has loads of interest in soldering projects, this one is for you. Stop skimming through the internet for the best one for you, as the one you deserve is finally here.
Combatting Hakko counterparts, this station also handles a huge range of temperatures. With this one included in your project, you can heat up the tip up to 900-degree Fahrenheit. That's quite a high-range of heat if any simple project is concerned.
Talking about the tip, it's unique for multiple reasons. First of all, it's so sharp-edged that you can place it on any tiny area you want.
Secondly, it is made from ST3 iron-plated copper material. It allows it to be durable as well as capable of smoothly reaching higher temperatures.
The WLC100 40-watt station can do magic when you need to regulate the power of the machine. It allows you to roam around 5 watts to the highest 40 watts of power. This can be done with just a simple twist of the knob attached. It's the simplest way possible.
Changing the watt can be crucial if you are planning to work on multiple types of projects with this soldering iron.
The pencil iron you get with this is made from durable material to keep on heating up and serve your purpose for a long time. Plus, it is surprisingly lightweight to be carried on by a few fingers. Again, it comes with a cushioned grip to allow you the best comfort in holding it.
As for its safety standards, know that this champ is UL tested and certified for meeting all the safety standards.
4. Weller WE1010NA
And lastly, we have the WE1010NA soldering station from Weller. If you are looking for one device that can help you get full-on with your professional soldering works, look no further!
This 70-watt machine works brilliantly when it comes to complex soldering projects. With this much power coming from the device, it gets easier for the durable tip to melt through some of the toughest metals.
The cable of this one is made from high-quality heat-resistant silicone. This means you can handle the machine pretty much safely.
That's not all. This 70-watt power accelerates the heat up process, as well. So, it takes a much shorter time to heat up and also recovers quickly.
A smart addition that Weller has incorporated in this model is the temperature lock system. With this one, you can lock the temperature to a certain level while you are working. Plus, it also protects the tips and other parts from damage.
As for the temperature range, this one comes out a winner in this segment, as well. It can get heated up from 200-degree Fahrenheit to 850-degree Fahrenheit at best.
To check and set up the desired temperature, you have the LCD screen on the machine with three pushbuttons. Just press the buttons to set the right mode and start with your project right away!
Its iron holder is quite a robust part. And it features an ergonomic handle that makes it convenient to hold. Plus, you get to change the tip without even needing any tools.
Keeping it safely is more than vital. That's why the improved safety rest is there to make sure you are not prone to any accident, ever!
Hakko Soldering Station or Weller Soldering Station
This has been a long debate. Choosing between Hakko and Weller soldering devices is not as easy as choosing marshmallows from the fire.
However, we did compile some insights for you. We have taken the Hakko FX888D and Weller WE1010NA as yardsticks.
Range of Temperature
Hakko can heat up within the range of 120 – 899°F, while Weller heats up in between 200 – 850°F. Weller may be lagging a bit behind from Hakko in this case.
Time to Heat Up
Hakko takes about 20 seconds to reach 350-degree Fahrenheit temperature. In contrast, Weller claims 28-30 seconds to reach the same landmark. Weller is clearly around 30% behind Hakko in this case.
Power
Hakko comes with a 65-watt machine, while Weller managed to push the limit to 70-watt. So, to heat up quickly and reverse to the default setup, Weller would be more efficient.
Protection
With a unique temperature locking system, Weller distinctly gets ahead of Hakko. Although Hakko came up with a password protection system for the machine to get locked, it doesn't have a provision for temperature locking.
Conclusion
The debate may continue for yet another decade in the future. But if you have closely read our reviews today, you may get some way-out from this age-old dispute.
Overall, both these brands are providing the support they are supposed to. There may be one factor where Hakko takes over, while in other cases, it's Weller who rules.
Based on your own needs, upon going through our analysis, we believe you can select the best match for you.
Have a great day!