Imagine using the wrong voltage connection to your electronic project and turning a simple device into a potential detonator!
This nightmare is not far from reality if you fail to take accurate readings of voltage, current, or resistance of the circuits you are using for your project.
So, what are you missing? Yes, a multimeter!
But what's more important is choosing the right brand for it. Being two of the leading names in the market, most users dangle between Amprobe vs. Klein multimeter. So, we thought of giving you insights into these two giants.
We have chosen three devices from each brand to demonstrate how useful these devices are and which ones to go for. So, let's dive in!
Amprobe vs. Klein Multimeter Comparison
Image
Product Dimensions
10.43 x 3.9 x 1.71 inches
Batteries
3 AAA batteries required. (included)
2 AA batteries required. (included)
1 Lithium Polymer batteries required. (included)
Style
Includes Outlet Tester, Line Splitter
2000A Digital Clamp Meter
Last update on 2022-11-24 / Affiliate links / Images from Amazon Product Advertising API
Amprobe Multimeter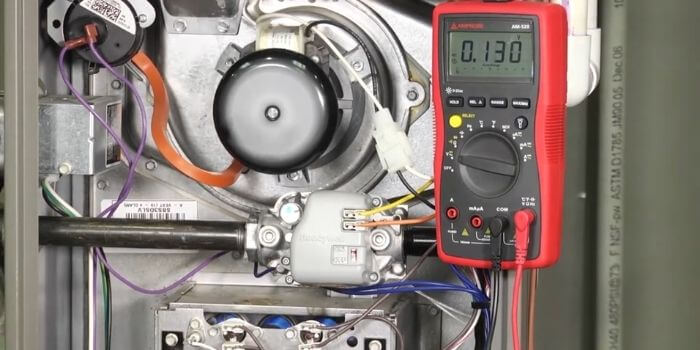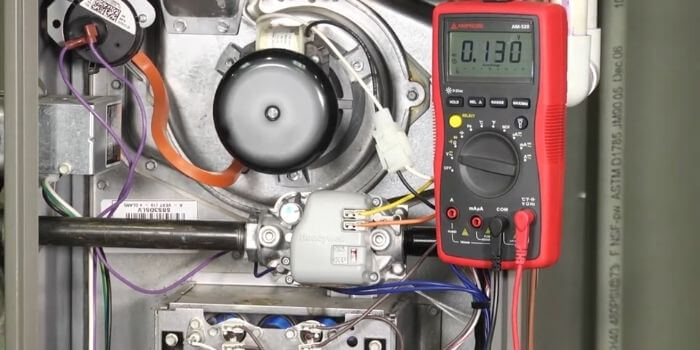 When it comes to producing top-quality meters and testers, Amprobe has been doing it for a long time now. Being based in the US, every single product of Amprobe is rated safe by either a UL or CSA. On top of that, these meters are reliable, accurate, and genuinely rugged in build-quality.
With features like auto-ranging, non-contact voltage detector, true RMS, dual-display and dual-temperature, etc., Amprobe is truly one of the leaders in this industry. The following section deals with three most reputed Amrpobe multimeters that we reviewed for you.
Recommended Amprobe Multimeter to Buy
1. Amprobe AM-510
Starting with Amprobe's most popular 500 series, we chose AM-510 for an easy kick-off. This is because the AM-510 is one of the most easy-to-use entry-level multimeters from the makers.
Although it suits the best in the category of home use and DIY functions, it can be used in diagnosing automotive electric issues and other basic electrical operations. If you are raising your eyebrows at the entry-level tag on it, you're most welcome to revisit your preconceived notions.
This manual and auto-ranging multimeter is a true tester for multiple options. You can use it to measure milliamps, and micro-amps, and of course, voltage.
Apart from these, you get to apply it to take a reading of full current, resistance, and capacitance, too. Not to forget the duty cycle and frequency!
Okay, so much in the pack for a simple multimeter, right? Well, hold your horses! We're not done yet!
The AM-510 can measure both AC and DC to 10 amps. For voltage, the range can reach up to 600V.
As for resistance, capacitance, and frequency, the capacity measures 40 megaohms, 100 microfarads, and 10 Mhz.
Again, for microcurrent and duty cycles, the reading can be taken up to 4000 microamps and 99%.
As for the safety issues, this one doesn't disappoint at all. This multimeter is a category III safe product for the most secure operation.
Additionally, the device comes with a backlit display to take the most accurate reading without any chance of getting misled. Plus, a built-in flashlight is there to help you out attaching those cables in the dark.
Interestingly, there's a probe holder that allows the machine to be set in a tilted position while you take a measurement. This helps as a third hand for you in many awkward situations!
Check Latest Price
Latest Guide: Amprobe vs Fluke Multimeter
2. Amprobe AM-570
Following the entry-level AM-510, comes the flagship device – AM-570. This is one of the most versatile and most sought-after testers among the 500 series.
This solid machine is a true multimeter that can measure voltage, resistance, current, frequency, capacitance, etc. in its single setup. What surprises us the most is the cheap price tag it comes with being jampacked with all these features.
It can measure both AC and DC volts up to 1000V, AC and DC currents at 10A. This includes the milliamps and micro-amps, as well. On the other hand, you have the advantage of measuring the resistance up to an impressive 60 megaohms.
As for the capacitance and frequency, the measurement figure is up to 60mF and 6MHz.
For the safety part of the device, you can keep assured that it is secured and safe. The rating is Category III for 1000V and Category IV for 600V. This indicates that it will perform pretty well in the industrial setup.
It comes with an interesting low-pass filter function. What this does is it allows you to take the reading of voltage and frequency on different speed drives. This system should be quite alluring to technicians and engineers, for sure.
One of the most excellent features of this device is its non-contact voltage detection option. You can check if there is any voltage in a socket outlet, all by just holding the tester close to it. If it can detect a voltage of 90V or higher, it will start beeping.
Another exciting benefit you get from this machine is the dual temperature inputs. With this, you can easily measure the temperature of two separate points at the very same time! It works like magic when you are working with multiple projects.
Check Latest Price
3. Amprobe AM-140-A
From the Amprobe family, we close down the shutter with the AM-140-A multimeter. This one is a true RMS sensing meter that gives accurate readings whenever you are using it for whatever purpose.
Speaking of purposes, the AM-140-A offers measurement of both AC and DC current up to 10-amp, voltage up to 1000V, resistance up to 50 megaohms, and capacitance up to 10000 microfarads.
For line-level frequency, it can read about 200 kHz, frequency up to 2 MHz, and duty cycles of about 99%.
With all these measurement facilities, this should be one of the prime choices for any technicians and electricians for any given project.
One of the best parts of this device is you can connect it directly to a PC to transfer the reading and analysis. It gets way easier than just jotting the data down and manually go through it—a big thumbs up to it for this.
Being a true RMS (aka Root Mean Square), the AM-140-A gives you the most accurate reading of linear and non-linear load. It performs impressively if the voltage or the current takes a non-sinusoidal or sinusoidal waveform.
If you are really in a hurry in case of measurement, you just can't ask for a better tester. This peak hold, on the other hand, can hold record AC and DC measurement (whether it's voltage or current) in just whooping 0.8 milliseconds.
Lastly, the security concern is real. But you can rest assured that the device is in full-control of yours as it comes with the safety standard 61010 of International Electrotechnical Commission (IEC). Plus, for 1000V and 600V, this one falls into a category III and IV safe product.
Check Latest Price
Related Guide: Fluke 87v VS Fluke 87v Max
Klein Multimeter To Buy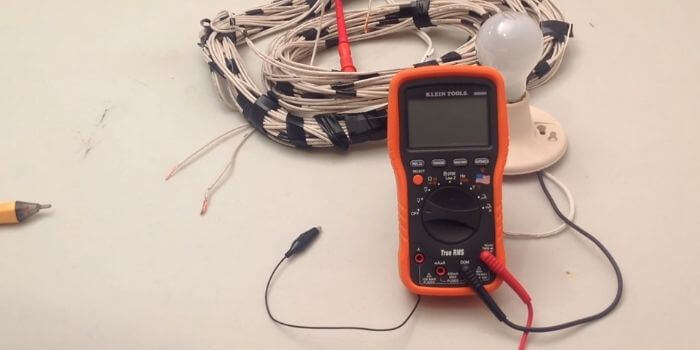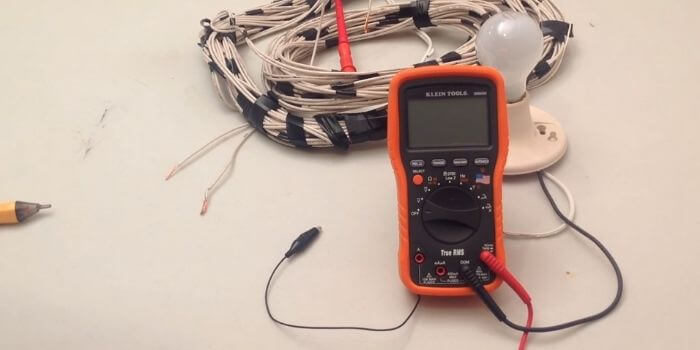 For over 160 years, Klein Tools has been making top-quality professional testing meters in US soil. With six generations of expertise being transferred for decades, Klein Tools is committed to providing the most functional products.
Klein Tools boast of quality features like line splitting, automatic ranging, low-battery indicator, automatic shutdown, rugged build-quality, wide and clear LCD screen, etc.
To find out the most performing options from Klein Tools, we have compiled three of the best Klein tools here. Let's find out!
4. Klein Tools CL110KIT
From Klein's den, we have the CL110KIT as the opener. This auto-ranging digital clamp meter is meant to stay ahead of its competitors for its multiple useful features.
The CL110KIT is a standout device for its clamping design, at least. This is because you can measure the AC current through the clamp, whereas the test leads measure AC/DC voltage, continuity, and resistance.
It doesn't matter whether you're having wiring problems in GFCI or standard receptacles, our champ right here can detect most common issues.
Whether the wiring is in open ground, open neutral and ground reversed, or reverse polarity, it does its work pretty effectively in all the cases.
It comes with a great feature of line splitting. With this line splitter, you get to draw current up to 15 amp without even splitting the power cord of the wiring. It ensures functionality and safety at the same time.
Talking about safety, you are in luck. With a Category III rating for 600V, you know what you are dealing with. Add that with a class 2, double insulation safety rating, and this one becomes one of the safest devices to work with.
Lastly, to take the reading, a bright, clear display is not at all optional. Keeping that in mind, the CL110KIT has a bright backlit screen that clearly displays the reading on it. It is comfortably visible even under direct sunlight.
Check Latest Price
5. Klein Tools CL900
If slim and fit is your kind of look, you definitely will love the CL900 from Klein. Its slim design and a small display on top leave room for the makers to make it a compact device.
Does slim mean fragile? Well, not always! Despite boasting such a convenient and lean design, the CL900 comes with rugged construction to beat most of its counterparts out there.
Try dropping it from more than 6 feet above the ground – you will be surprised by its impact withstanding capacity!
Coming back to its functions, it's a true multimeter that measures AC-DC voltage, continuity, resistance, duty-cycle, frequency, and capacitance. Whatever the need you have in your current project; this one has got your back.
With its advanced technical excellence, the CL900 can measure about 2000A of AC/DC current and about 1000V of AC/DC voltage.For a sleek device like this one, it's already a hands-down feature, we must say.
To ensure accurate measurements, this champ comes with an automatic ranging function. You get the advantage of taking next to perfect readings because of it.
On top of that, it allows non-contact voltage testing, eliminating the need to connect the device to the wires physically. Just take it around the corner, and you are done with the reading!
Apart from these useful options, this meter introduces some cool functions, too. Like for example, the low impedance mode.
This LIM allows you to identify and get rid of stray voltages in a circuit system. Again, it has a low-battery indicator that can save the battery from running down.
Plus, the auto-shut-down option is also pretty helpful. It will power off automatically after half-an-hour of inactivity to save the battery!
Check Latest Price
6. Klein Tools MM600
And the final one is the MM600 from the Klein family. This tester is actually a multipurpose one that can measure voltage, current, resistance, frequency, duty-cycle, continuity, and test diodes.
Take reading up to 1000V of AC/DC voltage with this excellent device. Again, measure about 10A of current and 40M of resistance by just simply connecting the leads to the wires.
For those of you who are not sure if they fall into the category of expert technicians, your time has come. This machine is absolutely suitable for any basic and controlled electromagnetic situation. The device is a perfect fit for residential, business, and even semi-industrial environments, as well.
Being such a user-friendly device, it reserves safety ratings of category IV and II for 600V and 1000V. That's not all; if you think that being a basic device, this one lacks durability, you need to think again.
To our utter surprise, this one can withstand a drop from a 2-meter height. Plus, rigorous daily use will not anyway cause any damage to it whatsoever.
As for additional features, you get a low battery indicator on it. You can tell it when the battery is about to go off, and you can switch it off immediately. This way, the battery life can be easily extended.
Check Latest Price
Amprobe Multimeter or Klein Multimeter?
As you can see, the epic battle between Amprobe vs. Klein multimeter is hard to call off, as none seems to be overriding the other. To make things a bit clearer to you, here's a quick comparison of both.
Auto Ranging
If you are looking for a multimeter that proves to be a winner in auto-ranging, Klein tester will simply outperform Amprobe ones.
While Klein devices show an excellent auto-ranging capacity to bring out accurate results, Amprobe meters seem to be a bit slow in this field.
Overall, you can get automatic ranging facilities from both brands, but if any of these two needs to be put ahead of the other, it has to be Klein.
LED Light
Most Amprobe devices come with a built-in LED light for better illumination in darker environments. It's pretty much possible that you will be working in diverse areas, including dark places where it gets tough to connect the leads to the proper place. The LED light comes in handy in these situations.
On the other hand, Klein devices seem to lack this feature, which is surprising.
Battery Indicator
Most Klein meters are equipped with a low battery indicator to keep the battery health in check. If it goes down, you need to shut down the meter or recharge it immediately. But Amprobe devices, by and large, don't come up with such useful features.
Dual Display and Dual Temperature
A few top-notch devices from Amprobe outperforms Klein devices by enabling the users to take full advantage of their dual temperature system. You can easily measure the temperature of two separate points with this feature. Plus, these devices also advocate dual display, as well.
These features are dead missing in Klein devices. So, Klein somewhat lags behind in this particle genre of the race!
Final Words
So, we finally wrap up our age-old debate between Amprobe vs. Klein multimeter. To be straightforward, as we have seen in the reviews, both the brands share some top-class features.
Yes, they do have some differences but then again, both of them have their own uniqueness. But if you are still in the clash of clans, we hope our in-depth reviews of the six products from both brands will help you out of this.
Good luck!