Technology is developing rapidly, resulting in the more casual use of professional-level gear. Even a few years ago, a microscope was something only available inside a scientific chamber. However, those days are long gone now. As the innovation played its own orchestral parts, digital USB microscopes have evolved.
Portable USB microscopes are much more lightweight and smaller than optical microscopes. Even though they do not have the same power as professional microscopes, their features and functionality are not behind. A digital USB microscope offers clear magnification and adjustability in lighting as well as crisp visuals.
In addition, you will also benefit from the convenience of a lightweight, portability, compatibility, and ease of use. This has made them a popular alternative with science teachers, students, collectors, and researchers.
Keeping these in mind, in this article, we have gathered 10 of the best digital USB microscope, which is excellent in magnification, resolution, and compatibility. Check the list to find out which one you need the most.
Our Favorite Digital USB Microscope
Last update on 2023-01-24 / Affiliate links / Images from Amazon Product Advertising API
Top 10 Best Digital USB Microscopes
1. Plugable USB 2.0 Digital Microscope with Flexible Arm Observation Stand
Give your hobbies a sense of advanced technology with the Plugable USB 2.0 which is the best digital Microscope recommended by experts. This fine piece of innovation is excellent for those who love to collect precious things. Made simple, easy to use, high compatibility.
Features:
Resolution: It has a camera resolution of 2.0 megapixels. While that may sound very low, with the help of 250x magnification, this won't fail to satisfy you for sure.
Compatibility: This particular model is compatible with almost every type of operating system out there. If you're someone who loves to hold several different kinds of gadgets, this can offer you tons of versatility.
Convenience: This microscope is extremely convenient. It features a built-in light that will help you to illuminate the object you're trying to investigate. Moreover, it comes with a flexible stand so that you can fix it in any way you like. Additionally, its capacitive camera button can be operated with the slightest touch.
Specifications:
Build Material: Plastic
Light Source: LED
Resolution: 2 MP
Magnification: Up to 250x
Length: 3.5 Inch
Weight: 2.9 oz.
Pros:
Affordable Price
Very compatible to a wide variety of operating systems
Easy to Use
Ideal for beginners
Crisp image quality
Cons:
Magnification is not that high.
Check Latest Price
2. Purada Wireless Digital Microscope
If checking objects at 1000x magnification is your demand, the Purada Wireless Digital Microscope is what you need. This microscope functions excellently with its high-quality lens. Besides, this digital microscope can perform through Wi-Fi, with no need for additional wires.
Features:
Magnification: Up to 1000x can be magnified with this microscope. Never be fooled with its small size; the 0.3 mega-pixel resolution with its features is a highly productive and excellent performer. Also, it comes with 8 white LEDs so that enough lighting is sorted while observing at a microscopic level.
Wi-Fi Connectivity: Unlike others, this is a true wireless digital scope. You need not have any wire to connect with your phone or laptop to operate. Rather, you need to download the dedicated app from the store and connect the microscope via Wi-Fi. Life made simple this way.
Portability: Microscopes can be heavy and bulky but not this one. This is a pocket-sized digital microscope which means this is light and, of course, can be carried easily.
Specifications:
Build Material: Plastic
Light Source: LED
Resolution: 0.3 MP
Magnification: Up to 1000x
Wireless Connectivity: 10 Meters
Compatibility: Windows, macOS X, Android, and iOS
Pros:
Can be used wirelessly; through Wi-Fi
Lightweight and easy to carry
Has a decent magnification level
Widely compatible
Comes with 8 built-in LEDs
Cons:
Users have registered complications while using with a phone
3. Bysameyee USB Digital Microscope
With the ability to measure objects, the Bysameyee USB Digital Microscope is a versatile option. This microscope can be used in different situations, ideal from kids to professionals. Furthermore, with the easy compatibility and easy to use and carry features, this magnification device brings convenience to a different level.
Features:
Convenience: While using this device, you will be stunned by the convenience this gives. Firstly, this is easily compatible with any type of operating system you have, with dedicated software. Secondly, this features a 3-in-1 USB converter which makes connectivity extremely easy. And lastly, it comes with some handy tools to make your experience much better.
Versatility: No matter your experience level, you will be well aligned with it, just because of how simple it is to use. From kids to scientists, anyone can use this.
Adjustable Light: It features 8 built-in lights which are easily adjustable. Many microscopes have a problem, which is the light is too bright. However, this microscope features a LED dimming wire control knob that can adjust the light accordingly.
Specifications:
Build Material: Metal
Light Source: LED
Focus Range: 1mm – 90mm
Magnification: Up to 1000x
Wireless Connectivity: 10 Meters
Weight: 9.1 oz.
Compatibility: Windows, macOS X, Android & Chrome
Pros ·        
Attractive design
Metal body construction ensures high durability
Comes with a 3-in-1 USB converter
Easy to use
Adjustable LED
Cons:
Snap and Zoon buttons are only functional with windows system
Does not support iOS
Check Latest Price
4. T TAKMLY Wireless Handheld USB HD Inspection Camera
T TAKMLY has bought an excellent device that can be easily used with any smartphone. The T TAKMLY Wireless Digital Microscope device can be used with all android and iOS supported devices.
Features:
Compatibility: Most microscopes are windows and macOS-based. Thus, it becomes tough to use them with smartphones. Nevertheless, this device resolves that this will work with any smartphone, just like any desktop or laptop.
Magnification: Up to 1000 times magnification power, the finest details will be noticed with this. You can observe all those little details within a leaf or a wing of a butterfly easily. However, this is not suitable for professional needs.
Portable: When it comes to portability, this performs flawlessly. It can be carried easily in your pocket and can be taken to simply anywhere. Besides, this is not just a microscope; you can take pictures of those subtle details. So yes! It is also a camera.
Specifications:
Build Material: Plastic
Light Source: LED
Resolution: 2 Megapixels
Magnification: Up to 1000x
Length: 5.3 Inches
Weight: 7.8 oz.
Compatibility: Windows, macOS X, Android & iOS
Pros:
Compatible with smartphones; Android & iOS
Portable
Can record videos at 1080p
Has Wi-Fi connectivity
Decent Camera
Cons:
Not ideal for professionals
Check Latest Price
5. Cainda Digital Microscope
All the convenience in one simple box, that's how Cainda packed their digital USB microscope. This digital microscope comes with some of the essential tools out there, and they surely back the whole experience a lot better. Starting from 3-in-1 USB converters to CD drivers, this microscope comes will all the goods to plug and play.
Features:
Portability: Out of the box, you will notice how light this is, despite being comparatively big. This is why most parents recommended this to their children. Moreover, although its light, durability is not something that is compromised. Made from metal, this will live long.
Magnification: Despite costing nowhere near a traditional microscope, this performs fairly similarly. With its ability to view objects at 1000x, this will let you see the smallest details. Besides, the image will be clear with great focus due to its 1mm to 90mm focus range.
Convenience: This doesn't require any pre-charging period to operate. All you need is to plug this into your device, and with your device's juice, this will function perfectly; simple. The hassle-free journey is bound to make you fall in love with this device.
Specifications:
Build Material: Metal
Light Source: LED
Focus Range: 1mm to 90mm
Magnification: Up to 1000x
Length: 7.8 Inches
Weight: 9.5 oz.
Compatibility: Windows, macOS X, Android & iOS
Pros:
Well-constructed
Equipped with handy tools
Convenient plug and play feature
Easy to carry
Good value for money
Cons:
Does not support iPhone/iPad.
Check Latest Price
6. SKYBASIC Wireless Digital Microscope
An exclusively designed microscope that can run seamlessly with any smartphone, the SKYBASIC Wireless digital microscope is a top choice. This is one of those tools that regularly tops the best handheld digital microscope reviews. Convenience, performance, and compatibility, this is a combination of sheer class.
Features:
Resolution: On paper, its 2-megapixel camera sounds weak, isn't it? However, with the combination of CMOS sensors, you'll be in awe of the quality of its 1920×1080 resolution pictures. Additionally, there are 8 LEDs to make things even brighter and vivid.
Convenience: Convenience is a must for a digital USB microscope, which offers exactly that. This is a wireless microscope, which means its works with Wi-Fi. Moreover, it comes with only one button to take videos and pictures, making recording ever simple.
Compatibility: This comes with user-friendly software that can run on windows, mac, and other operating systems. Also, a dedicated app named "Max-see" is available for android and iOS to make smartphone compatibility hassle-free.
Specifications:
Build Material: Metal
Light Source: LED
Resolution: 2 Megapixels
Focus Range: 1mm to 90mm
Magnification: Up to 1000x
Length:6.34 Inches
Weight: 11.7 oz.
Compatibility: Windows, macOS X, Android & iOS
Pros:
Sturdy build quality
Features CMOS sensor
Has a dedicated app for smartphones
Pictures are very clear and detailed
Very convenient
Cons:
Users have registered connectivity issues
Check Latest Price
7. KFF Wireless Digital Microscope
A digital microscope 1000x with the capacity to take high-resolution pictures, KFF is an exquisite choice. This is a wonderful tool for you if you're up to roam around the microscopic world of mini details. From adults to children, this will keep all its users content with its fantastic performances.
Features:
Build: This microscope accompanies a very durable and robust bracket made from 304 stainless steel. While the stand itself can spin at 360°, you can use the microscope from any direction. This makes utilizing the scope very easy too. Strong build while boasting convenience; what else do you need?
Magnification: Even though 1000x magnification is standard for any high-quality USB microscopes, this makes focusing very easy. Yes, on some occasions, blurred images are noticed. Nevertheless, adjusting the focus of the lens can make it crystal clear.
Easy to Use: A simple download of an app is what it takes to perform. Besides, it's straightforward to carry, too, thanks to its very lightweight design. Just take it anywhere and explore the wilderness of the microscopic universe.
Specifications:
Base Material: 304 Stainless Steel
Light Source: LED
Magnification:40x to 1000x
Focus Range: 1mm to 90mm
Magnification: Up to 1000x
Length: 6.42 Inches
Weight: 8.8 oz.
Compatibility: Windows, macOS X, Android & iOS
Pros:
Performs perfectly
Easy zooming feature
Decent details at maximum magnification
Connection is super convenient
Adjustable LED brightness
Cons:
Using without the stand may cause a blurry image
Check Latest Price
8. Koolertron 7-Inch LCD Digital Microscope
A digital microscope with a screen, yes, that's what the Koolertron has bought for you. It can function without the need for any smartphone or a screen whatsoever. How? Because it is already equipped with a 7 inch LCD. With the power of 1200x magnification, this device is a feature-packed contender.
Features:
Display: While most digital USB microscopes must need an external display to operate properly, this does not. It has its own display to show all those micro-level details of your desired object. This display is responsive and big, which makes it an independent option.
Adjustable Stand: This device comes with a unique stand that can be adjusted in two ways; height-wise and angle-wise. Setting this either vertically or horizontally is a convenient way to adjust the display to your taste. Just imagine there is a reflection which cannot be removed, no! Not happening here. 
MicroSD Slot: Not just its own display option, it has its own storage features. All you need is to put in an SD card (max 64 GB), and you are good to save all those important pictures freely. Now that's convenient.
Specifications:
Base Material: 304 Stainless Steel
Light Source: LED
Magnification: 40x to 1200x
Resolution: Up to 12 Megapixels
Display Size: 7 Inch
Magnification: Up to 1000x
Length: 6.42 Inches
Weight: 8.8 oz.
Pros:
Comes with a large display
Features a 12-megapixel camera
Adjustable stand makes it very easy to use
Relatively higher magnification range
Reliable and well-constructed
Cons:
Not supported to a compute or a tab/smartphone
Check Latest Price
9. JALIELL Wireless Digital Microscope
An unusual design, the JALIELL Wireless Digital Microscope has a look different than any other microscope. Equipped with a flexible stand, this microscope makes it easy to use from any direction. Besides, this is not just a microscope, no! It also can capture pictures and record videos.
Features:
Flexible Stand: Most of the microscopes come with rather stable or fixed stands, unlike this. Its flexible stand also offers 360° movement, which means you can use this from any side. This will solve your problem with reflections. Besides, the observation pad surely adds convenience.
Versatile: This is more than a microscope. This has excellent picture and video recording capabilities which sure comes quite practical in case of usage. Just imagine, you're checking some remarkable macro details and video recording that can be so cool.
Easy to Use: This device is straightforward to use. Just download the app, switch it on, connect via the web and start using it. However, there is a protective layer to protect the lens, do remember to remove that.
Specifications:
Magnification: 50x to 1000x
Light Source: LED
Resolution: 2 Megapixels
Stand: 360° Flexible Snake Tube
Length: 7.7 Inches
Weight: 16 oz.
Compatibility: Windows, macOS X, Android & iOS
Pros:
Comes with flexible stand for ease of use
Decent photo capturing and video recording capabilities
Decent magnification power
Compatible with wide range devices
Versatile
Cons:
10. COCOLD 7-Inch LCD Microscope
At the tenth place on our list of best digital USB microscopes is the COCOLD 7-Inch LCD Digital USB Microscope. Even though it came as last, it does not mean it's half bad. Rather, this is still an excellent digital USB microscope. Equipped with double lighting systems, this microscope makes angle and height adjustment just too simple. Besides, this also has its own display, a 7 inch LCD to be exact.
Features:
Display: Its 7-inch display is very high quality and can produce high-definition pictures. Its featured display removes the need for any additional smartphone or a laptop to operate this.  Also, this display can be tilted to a degree of 270.
Battery: This device can last longer, up to 6 hours. It is equipped with a 3000mAh lithium battery that holds enough power to keep this thing going for a long time. Be sure that your journey to the microscopic world will last long.
Lightening System: This device has totally redefined the lightening system of a microscope. Unlike lights build-in the scope, this comes with two adjustable lights, places on both sides, like hands. This helps to have an even light distribution, allowing a brighter and clearer approach.
Specifications:
Magnification: 40x to 1200x
Light Source: LED
Battery: 3000mAh lithium-ion
Battery Life: Up to 6 Hours
Display Size: 7 Inch
Magnification: Up to 1000x
Length: 9.45 Inches
Weight: 28.16 oz.
Pros:
Very easy to use
The picture quality is decent
Comes with a 7 inch large and high quality display
Decent battery life
Well designed
Cons:
Comparatively much heavier
Magnification is not that good
Best Digital USB Microscopes Buying Guide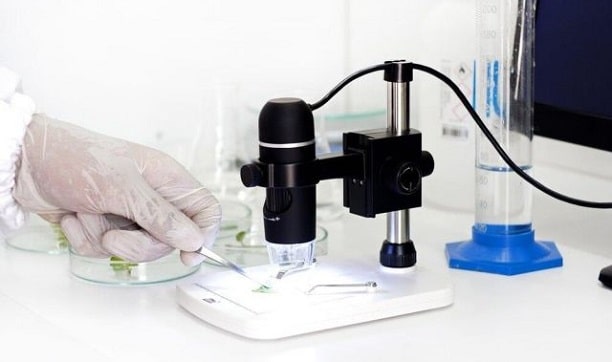 USB microscopes are a great and simple way to start your journey within the microscopic world. However, the market is flooded with tons of similar products, and not all are good options. Even many devices have excellent digital microscope reviews but, in real life, fail to live up to the mark.
So it's better to check few important factors before cashing one. Some of those factors are described below;
Compatibility: USB microscopes are mostly used with a computer or a laptop or even with a smartphone. A good digital USB microscope should support all of them. Some even come with their own dedicated apps or software for further support, and buying those will be the best purchase.
Magnification: The reason for buying a microscope is to see all those little details, which a naked eye will fail to catch. So a high and clear magnification is a must. The standard for digital USB microscope magnification starts from 40x and can go to 1200x.
Resolution: It's not the zoom you need, you also need to see the details in a clearer manner. So a high-resolution camera is also a must. Most good microscopes come with 2-megapixel cameras, with some exceptions that can be found having 12 megapixels.
Weight: These microscopes are meant to be used for school experiments or learning procedures. These are not made to be used as traditional ones. Hence, they need to be light and portable. Most of the lighter ones can be found under 10 ounces.
Purpose: Purpose plays a vital role here. At first, you need to acknowledge the fact that these are not for professional use. However, yes some professionals still use them. These have their limitations. So if you're looking for casual use, mostly for science studies or experiments, then these are excellent options. You can count on them to have great performance if you're a collector and paying attention to those subtle details is your priority.
How do I use a digital microscopes on Windows 10?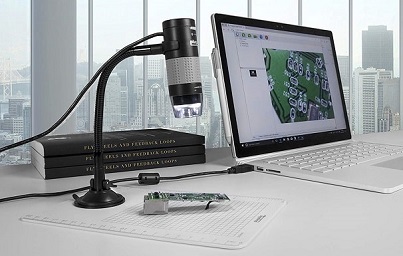 Digital USB microscopes are incredibly easy to use due to their simple setup with minimal effort. Within just a few steps, you can have a fully functioning telescope just inside your home. Now, let's go through all the steps to use this with windows 10.
Step 1: Setup the microscope.
If you're using taking the microscope out of the box for the first time, you need to assemble it. Assemble your microscope with its stand for maximum performance.
Step 2: Connect the USB plug
USB microscopes come with a USB plug to connect with a laptop or a desktop. To start the device, you need to plug it through a USB.
Step 3: Power on the microscope
Turn on the microscope by pressing the power button. Most USB microscopes do not have their own power source, so you can power it on after plugging it into a computer or a laptop.
Step 4: Install the diver
You will need to have a driver or software to run the device on your Windows 10. Your microscope either came with a CD containing the driver or has a website mentioned from where you can download the software. Either way, you have to download/copy the software and install that on your computer.
After installing the software, you have to run it. Simply double-click the software to run. You will be taken to a user interface where you can navigate the settings and other essential and interesting features.
As all the steps are done, you can now use the microscope. So, bring the object you want to inspect and put it on the observation pad and start checking the smallest details. You the magnification and focusing dials on adjusting the zooming as well as the focus range.
What does a digital microscopes do?
A digital microscope is simply a smaller version of an optical microscope. The difference can be noticed due to their size and the magnification power. Digital microscopes are comparatively compact and simple to use, hence making them a popular option for studies. Students, especially from a medical background, who needs to check all those micro details are fond of these innovative devices.
Not just the students, parents are also in love with these devices as they are great for science projects for their little ones. You can teach your child the complexity of electronics with these in a much simpler manner.
Besides, collectors also use such devices to check all those subtle details. Most coin collectors use these to check whether the coin is authentic or not. However, investigating all those smallest details which the naked eye may never notice.
Additionally, these also can be used to check small insects in a much clearer and bigger way. All you need to do is put those insects on the inspection pad and go over all their small body parts. You will be wondering how complicated their body is, despite being so small.
Also, these are great for inspecting leaves. Not just leaves, but also any sort of textures, whether the surface of a fabric or a stone. With great details, you can notice all those smallest distinctions.
FAQ
What are the advantages of using a digital microscope?
Compared to a traditional optical microscope, a digital microscope is much cheaper. Also, you don't need to have any experience using these devices as they are straightforward to use.
Additionally, these microscopes give near to similar functionalities to a traditional microscope in a much compact design. Besides, these magnifying tools are way lighter in weight. Hence they are so easy to carry around. You can take them to your school, any science project without carrying something large.
How do I connect my digital microscope to my laptop?
 To connect your digital microscope to your laptop, you need to plug the USB cable of your microscope into your laptop. After plugging, simply download and install the required driver software from the official website. When the installation is done, you need to run the software and start using the microscope.
How many types of microscopes are there?
The types in the microscope world are immense. However, the most popular ones are present, and the number of types is not that high. You will find microscopes, mostly in 4 different types. These are compound microscopes, stereo microscopes, digital microscopes, and pocket microscopes.
Every one of these microscopes is different in terms of functions and excels in their classes. It depends on you for what reason you need a microscope, and consider one accordingly.
What is the best digital USB microscope?
There are a lot of good-quality USB microscopes available in the market. All these products will serve you with the best performances. However, we do love the Plugable USB 2.0 Digital Microscope the most.
This microscope is simple to use, comes with a flexible and inspection grid, and is highly compatible with a wide range of devices. All these features within a very affordable price point took your preference for the best in class.
How do I view my USB microscope?
Most of the USB microscopes require a display. As a display, you can use the screen of your laptop or the screen of your desktop, or even use the screen of your smartphone. However, there are a few digital USB microscopes that come with their own LCD screen.
To view it, you need to plug the microscope into your laptop/desktop or your smartphone. After connecting, use the app to see all those micro details of the micro-world.
Final Verdict
When you're searching for a good option, you will be overwhelmed by the number of microscopes are available out there. Many will come with various distinctive features for specific purposes. Therefore, it comes to your purpose and preferences regarding the product you need.
In our list of best digital USB microscopes, we have enlisted 10 of the best options currently available. Among them, the Plugable USB 2.0 Digital Microscope comes on top due to its remarkable magnification and stellar performance. However, opting for other options will not disappoint you either.
We hope our USB microscope review has given you sufficient ideas and guidelines to make the best possible purchase. Choose the ideal one according to your likings are experience the highest possible outcome.