LAST UPDATED: January 13th, 2021
As an Amazon Associate, I earn from qualifying purchases
Are you a tech geek? Do you love to just adore your electronics to the best you can? Or you're a student studying EEE, or you might be a production manager that takes care of tech productions. In any of the above cases, you will need the best LCR meter that is available in the market.
Because, why not? You deserve nothing but the best.
LCR stands for Inductance, Capacitance, and Resistance. And an LCR meter gives you accurate measurements of these frequencies. This can also measure voltages and show you the value in precise digits on the screen.
I have accumulated some of the top-rated meters that are ruling over the category right now. So, without further ado, let's dive right into the reviews!
Best 5 LCR Meter Comparison in 2021
Last update on 2021-02-23 / Affiliate links / Images from Amazon Product Advertising API
Benefits of LCR Meter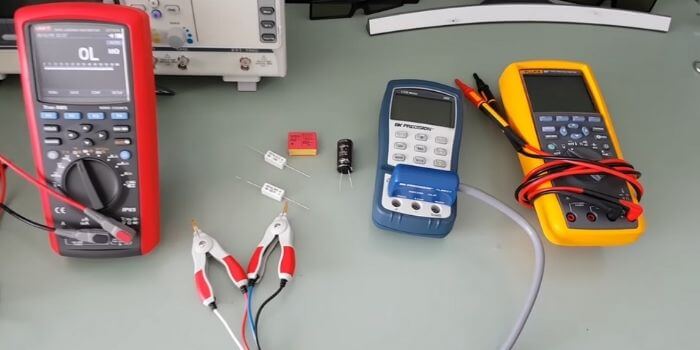 An LCR meter is a blessing for those who are working in production or are studying electrical engineering. Those who want to do home repairing and maintain the pristine conditions of their electronics also require an LCR meter.
It's a Multitasker
An LCR meter is undoubtedly compact in nature. As it allows the user to measure all 3 components at once, resistance, inductance, and capacitance, it is a multitasker.
Accurate
This will give you precise readings in any case. Of course, it has to be a good LCR meter in the first place, especially the ones that take measurements continuously to give better readings.
Easy and Quick
An LCR meter is usually super easy to use. There are also some available that are auto. Those are even more user-friendly. They are usually easy to calibrate. Some have self-calibration options too.
Best LCR Meter Review in 2021
Maybe you have or have not done your own research, but I am here to present you with my findings of the best ones. I did a lot of digging. Read ahead to find out more!
DE-5000 Handheld LCR Meter
The first one on my list is the DE-5000 LCR Meter. As perfect as this one is, you will be mind blown to see its portable capacities and how accurate of a result it can give you.
Let's talk about some simple things first. Please do take into account its lightweight. Because while working with an LCR meter, if it's bulky, it can hurt your arms. At 15.9 ounces, the DE-5000 is proven to be handy.
This LCR meter has the ability to perform one hundred percent auto-ranging operations for AC impedance. There is an 'Auto-LCR' smart mode that enables you directly to get readings from the meter without putting up with the hassle that comes with manually selecting the function key.
Looking for the best handheld LCR meter? Look no more because this might be it. You can select your own test frequencies ranging from 100 Hz to 100 kHz. Serial or parallel mode? That's up to you to choose because it offers both. Another amazing feature is its backlight.
This highly accurate LCR meter has a 19999/9999 counts dual display. One thing that is almost a given from an LCR meter is that it can measure capacitance, inductance, and resistance. Yeah, you guessed it right, so can the DE-5000.
It's so user-friendly that it has another 'sorting' mode. This will allow the user to sort while working with a bunch of components for added benefit.
There are some accessories included, making the journey even smoother – for instance, an English PDF manual, guard line (TL-23), DC9V battery, and so much more!
Latest Guide: Amprobe vs Klein Multimeter
B&K Precision 880 100 kHz Handheld LCR Meter
Here, we have the mighty B&K Precision 880. Considering its price point, you might see it as a top contender for the crown of best cheap LCR meter. Don't believe me? You will, in a bit.
This is a corded electric LCR meter. But this one also serves as a handled one. Who has the time for a wired one when you can opt not to? Come on! It's 2021! We don't do that anymore.
It's an LCR meter, so it obviously measures inductance (L), capacitance (C), and resistance (R). In addition to that, it also measures Z, which is the resistance to the flow of AC current. But it's limited to only 879B and 880 only.
This also automatically measures the secondary parameters, which are Q, theta, D, DCR & ESR. The primary display on this is an extraordinary device that comes with 40,000 counts resolution, and the secondary one has 10,000 counts resolution.
Up to 0.1% accuracy is promised with the meter. This is easily one of the best ones out there in the market. B&K Precision is smart, fast, and as accurate as it can possibly get.
You will be provided with an array of options when it comes to choosing signal and measurement rates.
Standard accessories are, of course, provided with the package. In-circuit testing of capacitors is possible because it can get low in terms of signal if you set it up to do so.
LCR Research Elite2-10KHz LCR Meter
Now this one is revolutionary. An LCR meter that is literally designed as tweezers is out of the box thinking. This prodigy of an LCR meter is none other than LCR Research's Elite-2. Trust me when I say that it truly lives up to the name.
In the categories of inductance, capacitance, and resistance, it gives accurate readings by 0.4%, 0.2%, and 0.2%, respectively.
The 'Innovative Aegis Technology' of the meter protects it from overpowering energy sources. That means you will be juicing this baby out for an extended amount of days.
Are you a boomer or a gen-Z dude? It doesn't matter because Elite-2 does not differentiate. For that purpose, you can operate this both in auto mode or manual mode. There are also shortcuts for you to use it just by one hand.
This has gold in it. Yep! That's right, gold! Do I have your attention now? Well then, let me tone it down a bit. The tips are gold plated. Ha-ha, gotcha!
The battery that comes with this meter is rechargeable, and for you to do so, it also includes a Type-C charger. Moreover, the display of this baby is a flashy OLED display that looks sleek and bright.
There is also a self-calibration function. What this does is it reduces the meter's external and internal parasitic parameters to ensure battery accuracy. It will come handy when you try to measure smaller resistance.
High-end chipset and algorithms were used to build this LCR meter. The manufacturers had really put some serious thought into its innovative design and marvelous build that made its way to my best LCR meter review article.
Related Article: Amprobe Multimeter vs Fluke Multimeter
Extech 380193 Passive Component LCR Meter
Extech, the legendary brand that pops up in these handy tool searches! I, hereby, present you one of the best LCR meters that is a product of this legendary company, the Extech 380193 LCR Meter.
The primary display on this device will give you your resistance, capacitance, and inductance readings. There is also a secondary display for Q and resistance readings.
You can set hi/ lo limits in whole numbers as well as percentage values. This is an added feature to further customize the LCR meter to serve you better.
The meter is listed as one of the favorites among the manufacturers, so you see it is special with its charms.
The backlit display will help you see even in a pitch-dark room if you need to.
This one has an RS-232c PC interface, which means you can now import data from the meter to your personal computer to save it and use it later. Not just this, the 380193 allows you to manipulate data to print, export, and do all sorts of stuff.
Not only its robust body but also with the stupefying open and short calibration option, it has won many hearts. This feature eliminates rogue series and parallel impediments from the calculated values.
As a result, you can get highly accurate measurements every single time! No matter how low or high values you calculate, this meter will give you accurate results.
Whatever the task is, either installation or quality assurance, production or maintenance, the Extech 380193 has got your back.
PEAK Atlas LCR45 LCR and Impedance Meter
At long last, the final LCR meter in my list, the veteran of its category – the PEAK Atlas LCR45. This LCR meter has swooped up the market by storm by its simplicity and agility. Let's take a deeper look at it.
First of all, for the ones with a non-engineering background and little to no knowledge of piecing together an LCR meter, I have some good news. This LCR meter is user-friendly and has an easy peasy lemon squeezy setting and menu system.
This is basically an upgrade to the LCR40. This LCR45 has gone well past the flaws that the previous one had.
With improved measurement resolutions and mathematical analysis, this meter has set some high standards for the newbies.
It is as simple as pressing one button to get measurements of impediment, resistance, and capacitance. Within a matter of seconds, it can detect the type of component and find out the most accurate values. It will continuously take readings so that you can get as close as you can to perfection.
Frequency testing can be done in both auto and manual mode for better assistance. Want some datasheets to keep organized?
They got you covered in that area, too; just visit the mentioned website while buying the meter. Additional accessories come free too. What a bargain for the buck!
What to Look for Before Buying?
What is the best LCR meter? It is the golden question that I am going to be answering in this segment. Before you go off and just hit buy now on your computer, just pause for a second and take a moment to think about your purchase decision.
An LCR meter is by no means cheap, but it can be relatively cheaper and efficient if you choose the right one. Here are some tips and tricks to keep in mind while buying an LCR meter.
Precision in Measurements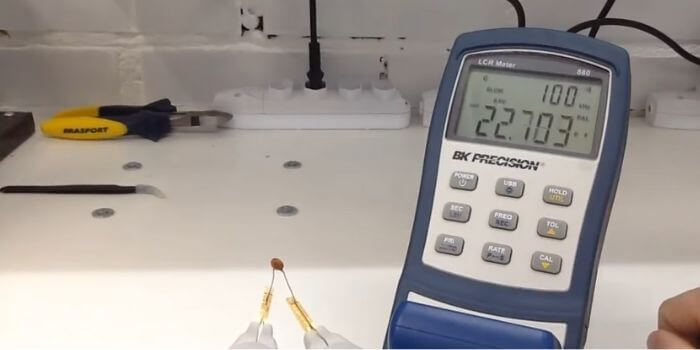 If your LCR meter is not giving you the most accurate result possible, then you might have thrown some money out in the air. If you don't get accurate results to even multiple digits after the decimal, you are going to miscalculate stuff.
The LCR meter that you will be buying should give you accurate results even with very high or very low impediments.
That is necessary for delicate projects. And if you are an electrical engineer or a manufacturer of electrical products, this is even more important, and I hope you know that already.
Display
A bright dual display will help you see things clearly. And with the dual-display, I mean a primary and a secondary display system will help you get more readings at a time. An LCR meter is able to multitask, so take full advantage of the one that does avail of this option.
Also, a backlight keypad will help you to see in the dark. I don't recommend you to work in low lights though, because it's harmful to the eyes, but sometimes you gotta do what you gotta do.
Portability
The LCR meter should be handy and mobile. If it's stuck with a cord that you have to bring along everywhere, then it's pretty much useless.
Please do not go for the ones that are not hand-held, you will thank me later.
Also, there is a buffet of options for hand-held lightweight LCR meters. The ones that weigh less will not give you muscle pulls when you don't need it.
Accessories Are Important
There are a bunch of additional things that you need with your LCR meter. Not the casing and charger, you can take those for granted.
I'm talking about the guard line (TL-23), batteries, alligator test lead cases, and other fancy accessories that you're supposed to get.
You have paid for everything, so don't settle for less than what you deserve.
Automatic or Manual
Do not make a choice, because there are plenty of LCR meters that will avail you both options. In the manual settings, you can further customize what you are looking for.
But the auto setting is also important for a standard reading of both high and low impediments and other properties. Efficiency is the key, and technology is moving faster than you think.
Money Matters
As I said before, money doesn't go on trees. Not your and definitely not mine. So, why not save some buck by making a smart decision? In many cases, having the option to save cash and choosing not to seem stupid to me.
There are plenty of LCR meters out there that might promise you the world then give you outdated technology fixes. Do not fall for that.
Only buy the one that checks all the boxes at a reasonable price. First of all, accurate results are the basic box to tick, then comes multi-functionality.
Most of all, if you don't need a fancy all doer LCR meter, then don't buy that one. Whatever gets the jobs done with precision is good enough. The best budget LCR meter isn't that hard to find, just keep your eyes open to opportunities.
Frequently Asked Questions
Here are some possible questions and answers that might still be on your mind.
Why is a hand-held LCR meter important?
A hand-held LCR meter gives you mobility. In many situations, you cannot move around with a cord and keep finding outlets everywhere. Besides, a hand-held one will get you into places that you wouldn't normally have.
How does the LCR meter work?
An LCR meter is usually used to measure the resistance, impediment, and other things. These measurements are gained by giving fixed voltages at a predetermined frequency and measuring the real voltage across. And it also measures the current flowing through the vessel.
How do I calibrate my LCR meter?
First of all, turn your meter on by pressing the power button. Then go for the cal/rel button for a span of 2 seconds.

Again, after waiting for quite some seconds, go for pressing the cal/rel button once more. It will automatically go back to the actual screen.
How to measure the impediment of a sensor?
The same way you measure any other. This also has some computerized solutions. If you're interested, then look it up. This value will come as outputs in your LCR meter.
'Component type' identification, what's that?
An LCR meter can identify what sort of component that you are trying to measure. For instance, it can be a diode or a capacitor or a sensor, your LCR meter can understand that in seconds.
Final Words
No individual LCR meter alone deserves the title of best LCR meter, yet some very good ones are almost roughing up the game. While finding the right fit for the activity is challenging, it's not impossible.
May the best one wins your heart.